FAFSA Information
See below for information on how to complete the FAFSA process as well as Frequently Asked Questions regarding the process.
Undergraduate Students
As the cost of education continues to increase and economic difficulties limit our donors' support, Moody remains firmly committed to sustaining our program without compromising the integrity of our Bible-based education. We believe God has provided an avenue to assist in meeting this central distinctive through accepting Federal Pell Grants and Federal Supplemental Educational Opportunity Grants (FSEOG) through participation in the Title IV Federal Student Aid program.
Federal Aid and FAFSA Process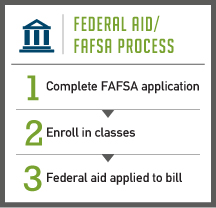 1. Fill out the FAFSA.
Log on to studentaid.gov and fill out the free application. Moody's school code is 001727. Each student should fill out the FAFSA annually.
2. Financial aid is estimated.
After filling out the FAFSA, Moody will estimate your financial aid awards. The estimate assumes full-time enrollment unless you are registered for classes, then the estimate will be based on the credits for which you are registered.
3. Moody notifies you of your awards.
You will be contacted with your estimated Federal Aid award amount.
4. Moody receives and disburses your aid.
Moody receives any Federal Aid on your behalf and applies it towards your costs. Funds will disburse no earlier than ten days before the start of classes. Freshmen borrowing Federal Direct Loans for the first time will not receive their first disbursement until at least 30 days after the start of classes.
5. Pay remaining student bill.
After Federal Aid is applied to your tuition, you'll need to pay the remaining tuition, costs and fees on your student bill.
After filling out the FAFSA, some students are selected for a process called "verification." One way to streamline verification and expedite FAFSA processing is to use the Data Retrieval Tool within the FAFSA.
FAQs
Completing the Free Application for Federal Student Aid (FAFSA)
What is the best way to complete the FAFSA?
What is Moody's federal school code?
I probably don't qualify for aid. Should I apply for aid anyway?
Do I need to be admitted at Moody before I can submit the FAFSA?
Do I have to reapply for financial aid every year?
I have already completed the FAFSA for another school. How do I add Moody to my FAFSA form?
Receiving Notification of Financial Aid
How do I find out about the status of my financial aid?
Home Schooling and Financial Aid
Are there any programs that provide student financial assistance to homeschooled children?