Dryer Hall Memories
'Sharing dreams, goals, friendship, and heartaches'
Kevin Mungons
April 12, 2019
Dryer Hall, named for the Chicago Bible teacher Emma Dryer, will close at the end of the spring semester after 41 years as an undergraduate student dorm. Wishing to preserve the legacy of the building's famous honoree, Moody Bible Institute has announced that another campus location will be selected for a new Emma Dryer tribute. A ceremony and dedication will be held later this year.
Dr. Mark Jobe '84, MA '98, president of Moody Bible Institute, called the closing of Dryer Hall "an incredible opportunity to expand on our celebration of God's servant, Emma Dryer. There would be no Moody Bible Institute if it were not for Emma Dryer being faithful to her calling and encouraging D. L. Moody to establish a school here in Chicago."
Dryer Hall currently houses 147 undergraduate students, says Dr. Bruce Norquist, associate dean of residence life. Campus leaders had discussed the building's aging infrastructure and maintenance costs for several years, leading to a plan to raze the building and redistribute the current students to the four other dorms on campus. Norquist says the realignment comes in response to shifting trends in the residence halls—more single undergraduate students and fewer married students.
Dryer's Life and Legacy
Soon after the 1871 Chicago Fire, Emma Dryer had started a Bible Work program devoted to prayer meetings, women's Bible study, and personal evangelism. D. L. Moody asked for her help in establishing a Bible training school on Chicago's north side, calling her "the best teacher of the Word of God in the United States."
Sometimes forgotten for her early assistance in establishing Moody Bible Institute, Dryer had previously been honored with a portrait in the campus dining room during the 1920s, followed by the 1977 dorm name.
Dryer Hall History
When Moody purchased the building in June 1977, it was known as Brittany Terrace Nursing Home, a venture that fell into bankruptcy. Moody spent the summer converting patient rooms to dorm rooms, and vice president Donald Hescott '51 started "Operation Fill Up" to recruit 100 new students. The new dorm opened with full occupancy for the fall semester, with Moody trustees naming the building Dryer Hall in October 1977. For six years the building was home to women undergraduate students, then transitioned to male students in 1983.
Starting in the mid-1980s, the top floor of Dryer Hall also housed Moody Radio's Broadcast Services, a tape distribution facility led by Perry Straw '63. By 2003 the tape duplication program was discontinued, largely because Moody Radio transitioned to online distribution and streaming audio.
In the 1970s, the LaSalle Blvd. corridor was politely known as a neighborhood in transition, full of colorful characters and quirky landmarks. Across the street stood the aging Henrotin Hospital, built in 1887 and known for its trauma center ("If I ever get shot, take me to Henrotin," cops and gang members would say). Further up the block was Marvin Glass and Associates, "The Toy Design Capital of the World," where games like Operation and Lite Brite were developed (the windows were covered with butcher paper to keep Moody students from spying, or so the owner claimed). And right next to Dryer Hall stood North Hall, built in 1909 by the Central Masonic Temple Association and later repurposed as Moody's gym (with campus rumors about the spooky attic and alleged secret passages).
Over the years, more than 3,000 Moody students lived in Dryer, provoking all sorts of warm and funny memories when the closure was announced. "We shared dreams, goals, friendship, and heartaches with some incredible women," says Nancy (Andersen '80) Hastings, who lived in Dryer and now serves as executive director of the Moody Alumni Association.
A Few Practical Jokes
Yes, there were pranks. Laurie Eve Loftin '83 and her friends on Dryer 3 organized a legendary stunt, one that could only work in the Olden Days when every room had a landline phone. After meticulously researching the phone numbers of each room on their brother floor, the Dryer women organized a simultaneous call-a-thon. At the count of three, everyone called a guy's room with the same script: "Hi, this is Ann, and I want to speak to so-and-so next door, but his phone is busy. Could you please check if he's on the line?" On cue, 40 guys bolted out of their rooms and simultaneously turned left, "all we like sheep," ka-bam.
"No mess. No damage. No one hurt," says Laurie now. "But oh, boy, what fun!"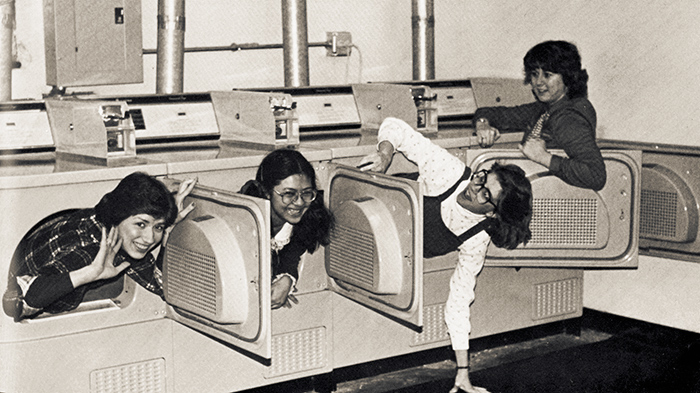 The Dryer women, circa 1982: Becky (Hueber) Perry '83, Rosemary (Sankaran) Scarpuzzi '83, Roberta (DuCharme) Ressler '84, Patti (Brand) Baatz, '83.
"And then there was the time that I made the ill-advised decision to shoot a watergun from my third-floor window," says David Holsten '98, later acknowledging that the LaSalle Street pedestrians were not quite amused. "That one landed me in Dean Arens' office, and some needed maturing came as a result," says Holsten, now the president and CEO of Mission Aviation Fellowship.
Serious Business
"I could tell of other stories, such as used-sock wars, pillow fights, and other types of so-called controlled mayhem," says Gary Riendeau '92. "I would prefer, however, to speak of the blessedness of those years in studying the Bible and Theology, and having significant discussions with my roommates on various theological matters and life issues. Such a time of growth at Moody—first and foremost from the classes and homework but also from relationships built in the dormitory."
Peter Schlaybach '13 ministered to street people during his Moody years, often reflecting on "the contrast between the safe and secure campus life and the totally hopeless lives we encountered on the streets." He started an evening ritual while waiting outside the building, habitually reading the Emma Dryer plaque while waiting for his ministry partners to arrive. "It was amazing to think that those people from the past who founded Moody Bible Institute are the reason that we were there that night," he says now. "We offered lost and desperate people a faint glimpse of hope. It also gave me courage to know that God had brought MBI into existence using people who were really pretty normal, so I knew He could use our simple offering of companionship to bring about real transformation in others' lives."
Fond Farewell
Moody celebrated the dorm's campus presence with an open house on Friday, Feb. 8, during Alumni Day of Founder's Week. Two of the most popular questions were "Can we buy a brick?" and "Will they sell off the room numbers from each door?" Bruce Norquist says Moody is exploring this possibility and will know more information once a demolition timetable is set. In the meantime, there are lots of memories and stories.
"We will reflect on Dryer Hall with many fond memories, especially the way students' lives were impacted while living there," says Dr. Tim Arens, vice president and dean of student life. "Life in the residence halls has and will continue to be an important part of the Moody experience for our students."
About the Author
Kevin Mungons is editorial manager for Moody Bible Institute's Marketing Communications department.