why spring share matters
Moody Radio is an oasis of hope and truth in a world that is thirsty for what only Jesus Christ can offer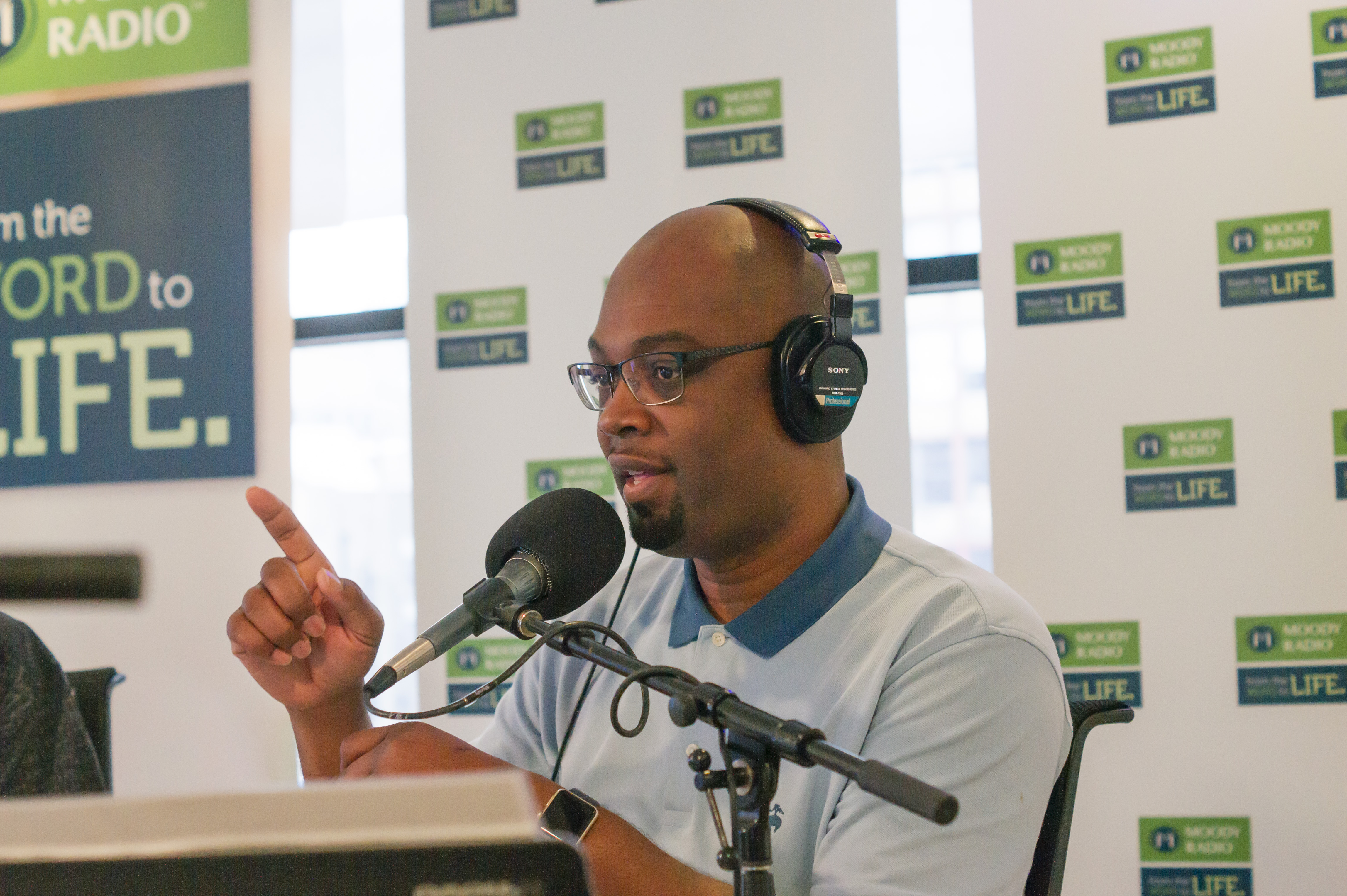 Equipped host Chris Brooks and his colleagues are busy with Moody Radio's Spring Share event. Photo by Lawrence Bohlin
By Jeff Smith
Have you ever scanned through your local radio channels or taken a spin through Sirius XM to see what you're "missing"?
If you did, you quickly noticed that you're not missing anything.
Radio, like TV in all of its forms, is primarily a vast wasteland.
News and sports talk shows that blather endlessly about temporal events that don't matter in light of eternity
Various music genres playing songs about sin, greed, lust, shallow relationships, and empty lives
Lyrics that glorify self, revel in worldly values, and focus on everything but the One who deserves all our attention and praise
A fast trip around the dial reminds me of the blunt wisdom expressed in 1 John 2:17—"The world is passing away along with its desires, but whoever does the will of God abides forever."
By contrast, have you listened to Moody Radio lately?
In a radio industry that feels like a desert of hopelessness, Moody Radio is an oasis of grace and truth. Whenever you or I need biblical encouragement and insight, we can tune in and find it almost immediately.
The other day, on my way home from a restaurant, I flipped on Moody Radio and heard a host passionately praying for Ukraine—not only for Ukrainians' protection from Russian military attacks, but especially for their salvation. What a comfort to have a radio station on "speed dial" that understands God's eternal perspective and sees life on earth through God's eyes.
And, even though I've counted Christ as my personal Savior for more than 40 years, I always find myself smiling whenever I hear a program host or announcer communicate the gospel. That's because every day untold numbers of people are listening to Moody Radio who haven't crossed the line and placed their faith and trust in Jesus for forgiveness and everlasting life. It's why Moody Radio intentionally presents the good news of Christ at least 10 times a day.
I didn't realize the impact that God is making in so many lives through Moody Radio until I began working at Moody last September. Every couple of weeks, Moody Radio's program manager, Dan Craig, emails our staff a long list of testimonials gathered from listeners thanking Moody Radio for helping them in some way.
One listener's story recently brought a lump to my throat.
Iveta from Oak Brook, Illinois said, "When I first came to Christ five years ago, you (Moody Radio) were my family as I felt utterly lonely. You fed me the rich truth of God's Word and helped me grow. Now, years later, I am still growing and learning every time I have Moody on, which is every day. Thank you for standing up for the truth and showing people the path to everlasting life in an honest and engaging way!"
Iveta's words above could melt the hardest of hearts.
Did you know that Moody Radio is a commercial-free ministry fully funded by generous donors? Every six months Moody Radio hosts a fundraising drive called Share, relying on faithful financial support to keep the ministry on the air.
Moody Radio's Spring Share event began Tuesday and runs through Saturday, March 19. If you believe in the mission of Moody Radio and particularly if you benefit from its programming, would you contribute a gift to Spring Share as God leads you? Let's partner with Moody Radio to continue bringing the truth of God's Word and the hope of the gospel to the airwaves and our needy world.
Visit the Moody Radio Spring Share website for more information and to give.