Taking Flight by Faith
Moody trained David Holsten to boldly serve overseas as a missionary pilot and lead Mission Aviation Fellowship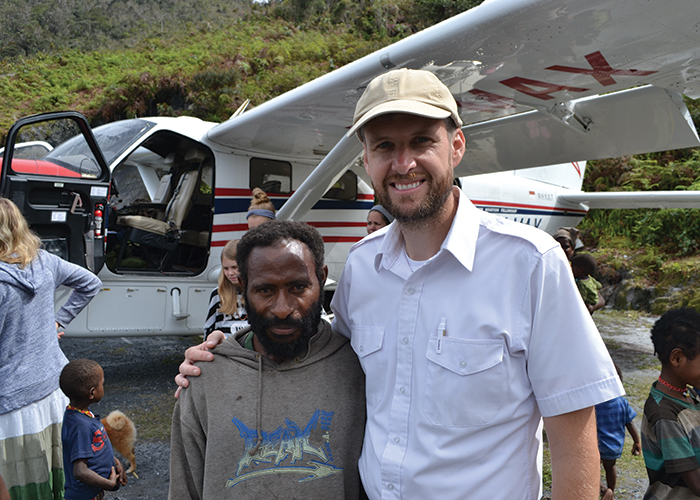 Pilot David Holsten with Liku, a Wano believer and Bible teacher in Papua, Indonesia.
By Jeff Smith
In a matter of minutes, a health emergency had transformed David Holsten's single-engine Cessna missions plane into an air ambulance. The 1998 Moody Aviation graduate could feel the weight of the moment on his shoulders.
"Please fill us with Your peace, Lord," David quietly prayed as he guided his aircraft over the rugged terrain of Papua, Indonesia.
David was used to transporting a range of supplies as a missionary pilot for Mission Aviation Fellowship (MAF). But this time his plane contained a special and unique "cargo": a pregnant native woman in prolonged labor with her first child.
While the woman's husband and a clinic nurse tended to the delivery, David focused on flying over dense jungle to a city hospital an hour from the remote village. As they neared their destination, David glanced behind him and saw the nurse serenely gazing out the window. As he landed the plane on the small airstrip, David heard more crying. But this time the cries came from a newborn baby!
The woman's husband lifted a blanket to reveal the mother gently cuddling their infant son. Later that day, David received another surprise: The couple named their child after him.
David still vividly remembers the events of this day some 10 years later.
"That was a very, very fulfilling time of ministry, of being able to see the airplane used as a tool that really could bring life-saving health," David said. "And that was true physically and spiritually."
A life of great risk for a greater cause
The people living in remote areas of Indonesia deeply respect and rely on pilots like David. It's easy to see why. With automobiles rare in Papua, airstrips are essential to their survival. It's common to see runways built down the middle of villages.
In 17 years as a pilot with MAF in Indonesia, David faced numerous risks—dynamic weather changes, dense topography, sloping grass and dirt airstrips, and limited fueling options among them. But David is grateful to the Lord for giving him the desire, courage, and spiritual and technical training to serve as a missionary pilot. David's training began in 1994 as a shy teenage student at Moody Bible Institute.
"God has given us one life to live on this earth, and I don't want to look back on that life with regret," he said. "I don't want to think, That was an unknown, uncertain thing, and I was too afraid to pursue it. My experience at Moody helped to equip me with a deeper understanding of God's Word and to better live a life without regret."
To the Ends of the Earth
Today, David is president/CEO of MAF, which was featured with Moody Aviation in the powerful theatrical film Ends of the Earth in October 2021. MAF works with 500 Christian and humanitarian organizations globally, with 200 missionary staff operating 47 light aircraft from 14 bases in eight countries out of Asia, Latin America, Eurasia, and Africa. MAF's missions pilots support indigenous churches in disaster relief, medical care, community development and a host of other needs.
Moody Aviation, which is celebrating 75 years of ministry during the 2021–22 school year, has supplied many of MAF's pilots, including Nathan Fagerlie '04, who serves in Papua, Indonesia, with his wife, Becky (Tjernlund '03).
For full details on David's life and ministry, click here to read Linda Piepenbrink's story from Moody Alumni & Friends magazine.
Linda Piepenbrink contributed to this story.