shepherd to lost sheep
Moody alum leaves the comforts of the US, devotes his life to reaching nomadic shepherds in Lesotho, Africa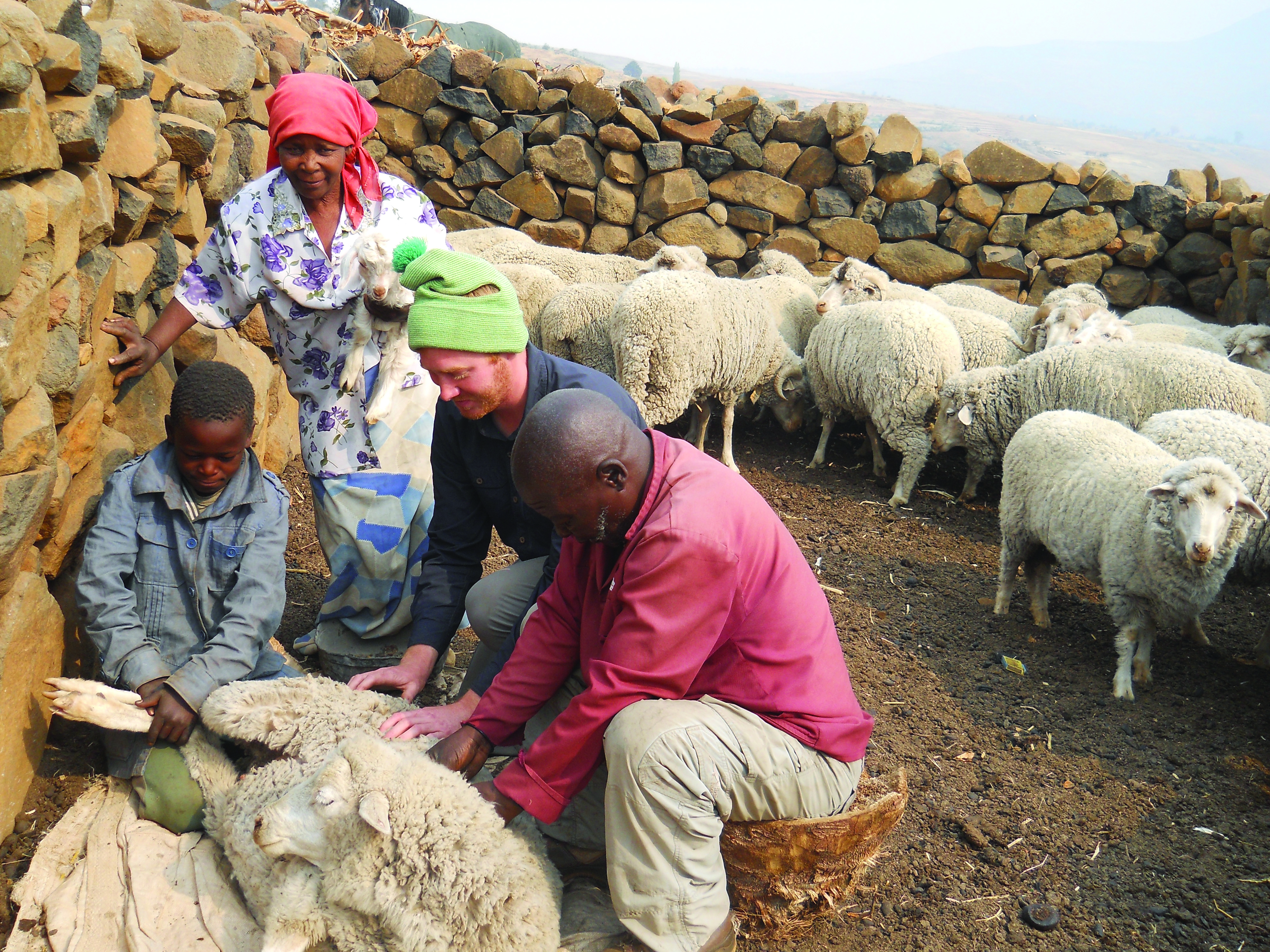 Caleb Fetterhoff assists shepherds with an injured sheep in the highlands of Lesotho, Africa.
By Jeff Smith
As followers of Christ in North America, most of us say we pray at least occasionally for spiritual needs outside of our country. Many of us support missionaries or sponsor children through international agencies like Compassion or World Vision. Some of us even take short-term mission trips overseas.
Then there are believers like Caleb Fetterhoff '11 who live, breathe, and immerse themselves in the Great Commission on foreign soil.
For the past six years, Caleb has walked, talked, and shared life alongside the seminomadic shepherds in the highlands of Lesotho, Africa, home to the highest mountains in Southern Africa. Serving with a team from Africa Inland Mission, Caleb befriends the boys and young men hired by cattle owners to shepherd flocks and herds of sheep and goats across this rugged country.
Caleb and his team communicate the gospel, lead Bible studies with the shepherds, travel with them, and help connect them with a mobile church community that gives them a solid biblical foundation for their young faith.
A Goat, a Prayer, and a New Birth
More often than not, drawing shepherds into a personal relationship with Christ involves a decidedly different approach than you or I would take in witnessing to nonbelievers in the western world. Like nearly all of the other shepherds, Mahlanya, a friend of Caleb, is a hired shepherd from a destitute family. During one of Caleb's weekly Bible studies, Mahlanya heard the story of Jesus healing the paralytic man.
A few weeks later, Caleb was helping Mahlanya herd goats together in one of the pastures at dusk. One of the goats fell off a small cliff and injured its neck and head. When Mahlanya reached the baby goat and found it was unconscious, his first response was to seek Caleb's spiritual assistance.
"Though he wasn't professing Jesus at this point, he asked me to pray," Caleb says. "I'd seen many small goats injured like this and knew they seldom survived. But when he asked me to pray that Jesus would heal the kid like the man in the story, I prayed."
Mahlanya lifted the baby goat in his arms and carried it back to the cattle post. He soon dubbed the goat "Cripple," translated from the word paralytic, and faithfully fed it with a syringe for four days until the kid could stand again.
Later that week, Mahlanya motioned toward the hillside and happily reported to Caleb, "Look, Jesus has healed the cripple just like in the Bible stories." Within another week, the young goat was fully healed.
Months later Caleb learned about a spiritual healing—Mahlanya informed his friends that he had trusted Christ as his Savior and was born again. Caleb understands that some residents of Lesotho claim to be Christians but still practice the traditional ancestor worship.
Caleb approached Mahlanya and asked, "When did you become born again?" Mahlanya replied, "When Jesus healed the cripple."
You can read Caleb's fascinating full story from Moody Alumni & Friends magazine by clicking here.