Sharing Christ in the Classroom
2022 Moody graduate feels fully prepared to follow God's calling to teach at elementary school in Arizona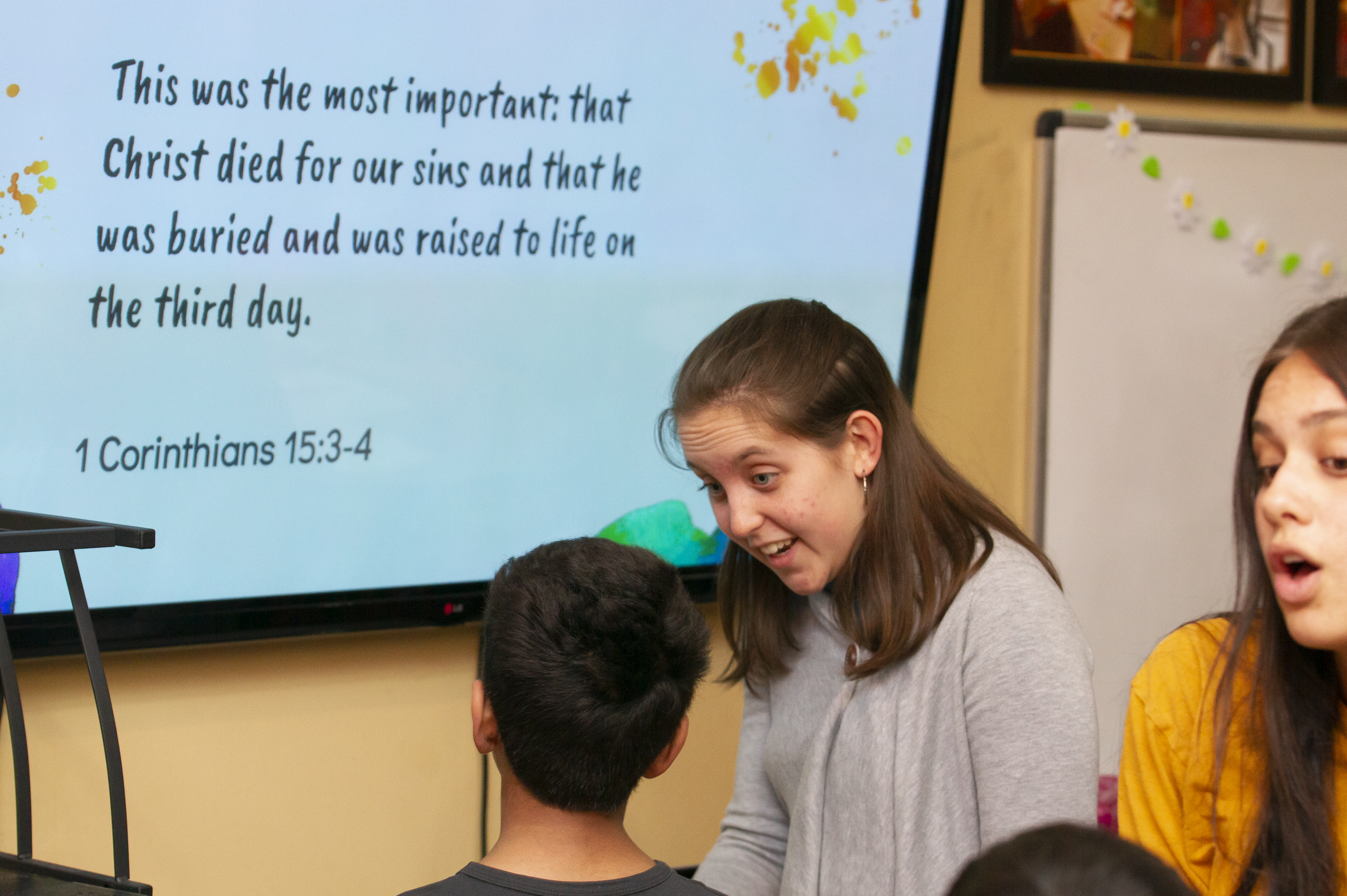 Moody Bible Institute's Practical Christian Ministry service and its Bible-focused education help train students to follow God's calling on their lives. Photo by Lawrence Bohlin
By Jeff Smith
Most high school students consider choosing a college one of the most stressful decisions of their young lives. But this was never the case for Hannah.
"I knew without a doubt that I wanted to attend Moody Bible Institute," the Chicago native says.
From the outset of her college application process, Hannah believed Moody was the clear option for preparing her to represent Christ in the classroom as an elementary school teacher. After four transformative years as a student, the recent 2022 Moody graduate is deeply grateful to God for guiding her to Moody.
"There's nothing better in my mind than to have the opportunity to study God's Word for four whole years, to sit under some of the best Bible scholars in the world, and to have the privilege to discuss with professors and peers the tenets of our faith," Hannah says. "Moody is also uniquely situated in the heart of Chicago, which gives opportunity for great practical application of ministry as we are studying and learning more about how to share and live out our faith."
Pursuing God's calling to Arizona
An Elementary School major, Hannah completed her student teaching internship this spring at a Christian school in Arizona. The school's leadership was so pleased with Hannah's performance that they offered her a full-time position teaching kindergarten beginning in the 2022–2023 academic year, which Hannah happily accepted. Hannah credits the Bible education and ministry training she enjoyed at Moody for thoroughly equipping her for this opportunity.
"Something that has really been impressed on my heart is that all truth is God's truth, so it really needs to be taught through His perspective—a biblical perspective," Hannah says. "When it's not, it allows for the possibility of truth to be compromised in a way that may be contrary to God's Word. So teaching children through a Christian worldview is vital for their correct understanding of God and His world."
The PCM difference
The Bible-focused instruction she benefited from at Moody became strongly cemented in her heart and mind through her participation in Moody's Practical Christian Ministry (PCM) component. Hannah volunteered weekly in a PCM with a global youth ministry that shared God's love and truth with inner-city teens across Chicago.
"I was able to put into practice what I was learning in the classroom in a real-world ministry setting," Hannah says, "which would also help me gain even greater insight on areas to focus on in my studies as I trained to serve God wherever He calls me. I have also been heavily involved in children's ministry . . . None of these ministry opportunities would have been possible without the training I received at Moody."
Deeply grateful for support
As she gets ready to follow God's next chapter in her life, Hannah will never forget the generous prayerful and financial support that enabled her to learn, grow, and train for her ministry calling over four life-changing years at Moody.
"This would not have been possible without the prayers and giving of so many who partner with Moody," she says. "I would not have been able to accept this type of lower-paying ministry position in a Christian elementary school if I had the amount of student debt when I graduated that most college students have. I know I speak for all Moody students when I say from the bottom of my heart thank you to everyone who has supported us with prayers and finances to make our training possible at Moody!"