perfect timing for nonprofit management major at moody
New degree program comes as need for nonprofits soars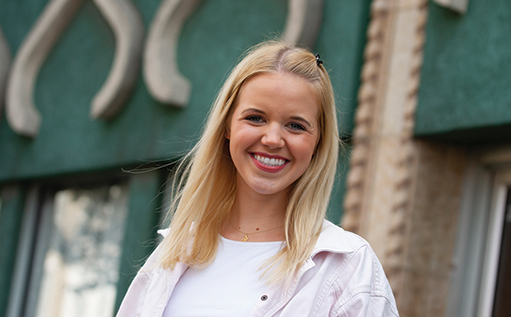 Bonnie Hill is one of the first students to enroll in the new Missional Leadership – Nonprofit Management degree program.
by Jeff Smith
Prior to joining Moody Bible Institute, I worked for one of the largest children's ministries in the world. As a nonprofit organization, Awana was providing Bible-teaching clubs for over 25,000 churches in 110 countries—and ministering to about two million boys and girls—when I left in 2013.
Yet, in spite of our singular focus as a nonprofit children's ministry, no one on our full-time staff held a degree in nonprofit ministry or nonprofit management. Our executive and directorial leadership typically earned degrees in Theology, Biblical Studies, Pastoral Studies, or another Bible-focused field, coming to Awana after stints as pastors or missionaries. It was through no fault of their own; few colleges and universities offered nonprofit degree programs at the time.
This blind spot in their backgrounds meant that our leaders received their nonprofit ministry and management training on the job after being hired at Awana. They never benefited from a nonprofit management or ministry education before their arrival.
On-the-job training can only prepare you so much for the rigors of a nonprofit ministry position, whether in leadership or at a specialty skill level. Awana's leadership was still very effective in many ways, but novice mistakes were inevitable. I know I made my own share of rookie miscues as a mid-level manager with no prior nonprofit ministry or management instruction.
New nonprofit degree at Moody
That's why it was so refreshing to see Moody Bible Institute launch a new Missional Leadership – Nonprofit Management degree in the fall of 2020. Spearheaded by Dr. Craig Hendrickson, this new program teaches and trains students in how to start, develop, and direct Christ-centered nonprofit and missional ministries.
The timing for the debut of this new major at Moody seems ideal. The National Council of Nonprofits reports that demands for nonprofit ministries and charities is at an all-time high. The Bridgespan Group says US nonprofits, both evangelical and secular, have experienced record growth since 2000.
This nonprofit expansion can be traced primarily to the heightened needs of communities stemming from a range of societal issues: the mental health crisis, human trafficking, drug and alcohol abuse, and breakdowns in traditional family structures, to name just a few. As people struggle in a lost, broken, sin-cursed world, there is an increasing urgency for nonprofits (and, of course, churches) that follow God's leading to meet these needs according to His plan.
This was the motivation behind Dr. Hendrickson's push for a new major at Moody. "We've seen an explosion of growth in these types of ministries," he told us recently. "We want to train people who are adept and skilled at leading through a program anchored on the foundation of joining God in His mission."
Learn more about Moody's new nonprofit degree
To learn full details about the exciting new Missional Leadership – Nonprofit Management program, check out the new feature story from Alumni & Friends.