Leaving a Lasting Legacy in India
Beloved missionary teacher of 43 years, 1946 Moody graduate honored by former students at age 100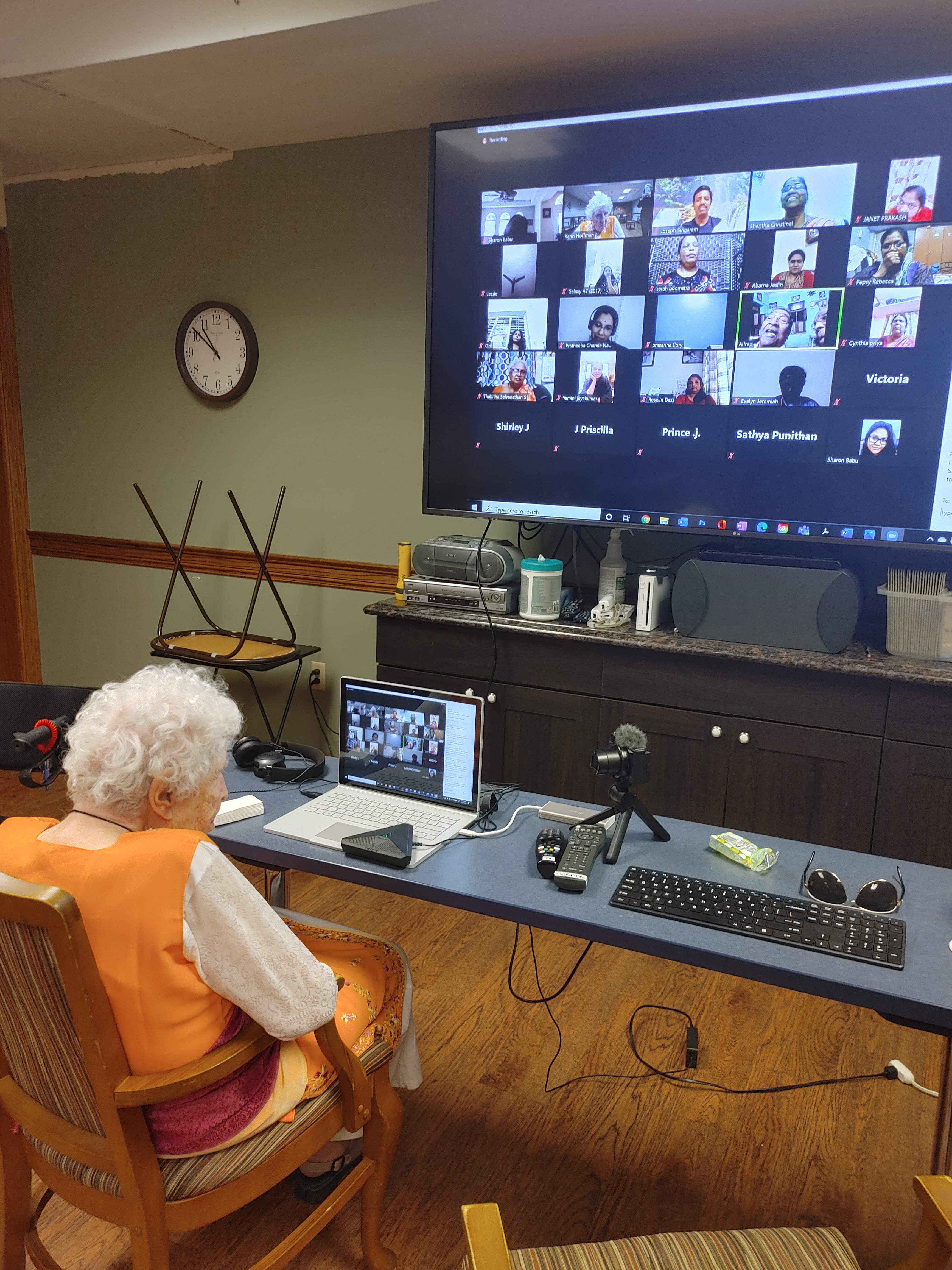 Dora Boomstra meets with former students during a special Zoom party in her honor.
By Jeff Smith
Whenever I read about 100-year-old Dora Boomstra, the classic song "Thank You for Giving to the Lord" comes to mind. The lyrics tell the story of a Christian who dreams of going to heaven. While there, she meets people who tell her they are spending eternity with God largely because of the impact of her sacrificial service to Him.
One by one they came
Far as the eyes could see
Each life somehow touched
By your generosity.
Little things that you had done
Sacrifices made
Unnoticed on the earth
In heaven now proclaimed.
Dora never married, and the long hours she faithfully served year after year could have easily gone unnoticed. But few of us boast more spiritual children than this extraordinary 1946 graduate of Moody Bible Institute.
A teacher called 'Mom'
As a missionary to South India, Dora founded the VRV Girls Higher Secondary School in 1949 and taught at the institution until 1992, retiring at age 71. She poured 43 years into pointing students to Jesus Christ and laying a biblical foundation at a critical stage in their lives.
Countless boys and girls in India placed their faith in Christ as their Savior through Dora's influence. Her students affectionately called her "Mom" as a reflection of the personal difference she made in their spiritual and educational development and the compassionate care she provided each school day.
Dora was so beloved as a teacher that 30 of her former students and colleagues made a video call to her last Mother's Day, shortly before her 100th birthday on July 29. They also relayed video messages from dozens of other former students who expressed their gratitude for her tireless work.
Evelyn Jeremiah, a former student and the current headmistress of the VRV school, said of Dora, "She has lighted the lamp in so many lights, of the girls especially."
Devoted to the gospel
What was Dora's inspiration for devoting her life to missionary service? The simple yet profound story of Jesus feeding the 5,000 in Matthew 14.
"What if the disciples just fed the first row?" Dora says. "What about the other people?"
As a reflection of the training she received as a Bible major at Moody, sharing the gospel was always Dora's top priority as a Christian schoolteacher. The school day in India began at 10:00 a.m., but Dora required students at her school to arrive in the classroom at 9:00 a.m. for Bible study.
"That way we were able to bring the message of salvation to the non-Christians," she says, "and help the Christians know how to share their faith."
Legacy that won't soon be forgotten
Besides her commitment to Scripture, Dora enjoyed teaching her students to play the piano and nurturing a lifelong passion for learning in them. Many of her students went on to pursue higher education, even going so far as to direct schools themselves.
Dora left a legacy of ministry in India that may never be forgotten. A block at Dora's former school is dedicated to her, and one of Dora's former students has named a preschool in India after her. More importantly, numerous ex-students are following Dora's example, raising their own children or training their grandchildren to walk with Christ and serving God however He leads.
Thank you for giving to the Lord, "Mom."
Linda Piepenbrink contributed to this story.