'I Just Want Them to Know My Savior'
Moody PCM students teach English, find friendship, share the gospel in local Jewish immigrant community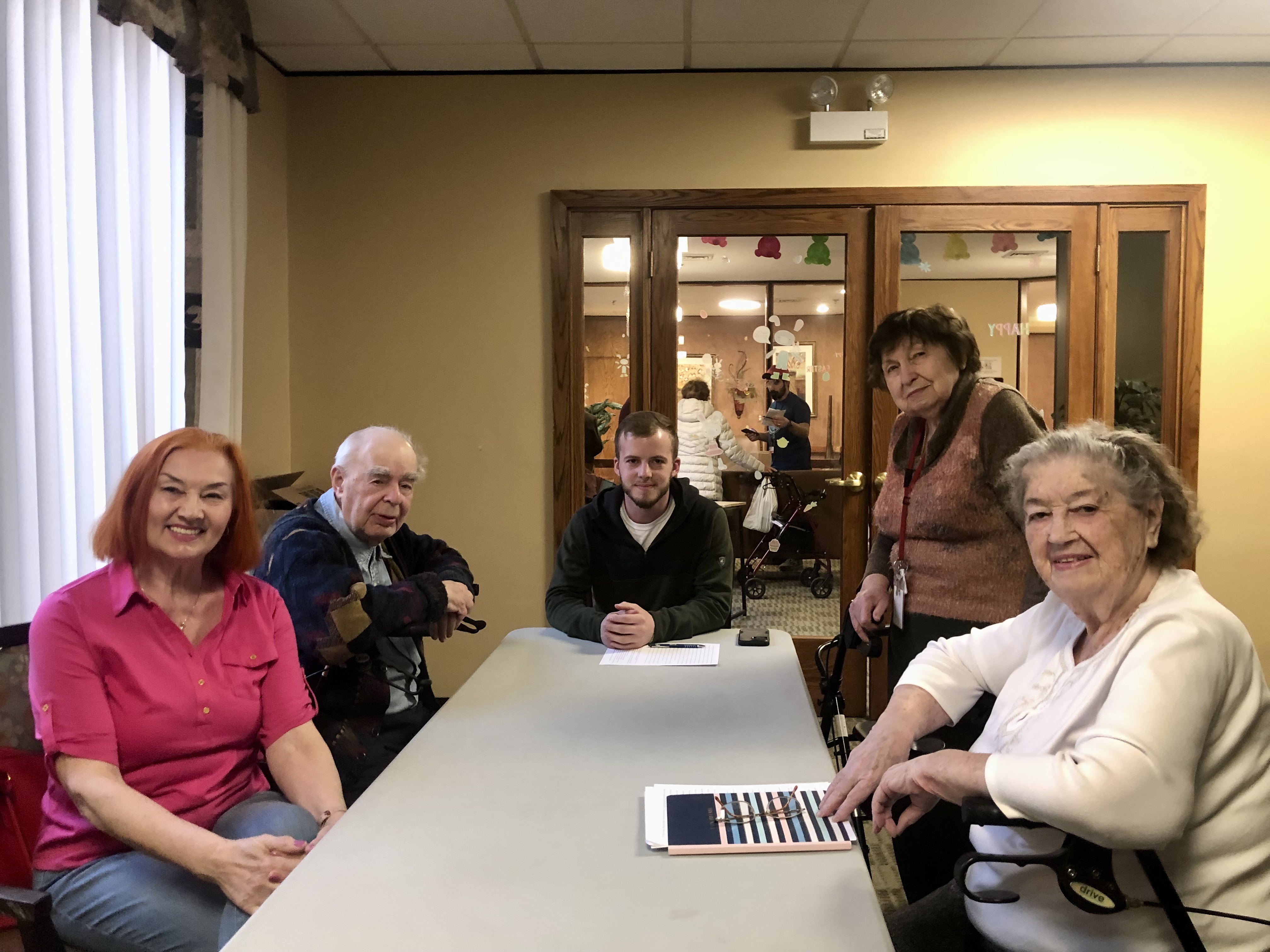 Paul (center), a junior Biblical Studies major, teaches Russian speakers (left to right) Valeriya, Gregori, Chaisa, and Alla in a conversational English class run by a Moody Practical Christian Ministry near the Chicago campus.
By Miriam Parrish
Each Monday night, a group of elderly Jewish residents gathers in the lobby of their apartment building near Moody Bible Institute. This temporary arrangement is not the ideal environment for an English class, but they're here to learn.
Soon they're joined by Rachel Zupke '20, mobilization coordinator for Life in Messiah International (a ministry to Jewish people) and a handful of Moody students serving as English teachers whom she supervises for their Practical Christian Ministry (PCM) assignment.
Overcoming tensions
These days, there's some tension among these Russian-speaking ESL students, most of whom hail from the former Soviet Union. "They don't bring [the war in Ukraine] up much in class," said Rachel, who's known the elderly residents since her Moody days. "But when I'm one on one with some of them, it's like they feel heavy and burdened."
Another reason for the tension is the decision this semester to teach English from Old Testament passages. "Some of them go to synagogue every week," said Greg, a senior Biblical Languages major. But many of the students aren't familiar with biblical literature—not even the Torah—and aren't pleased with studying "religious texts."
"One reason is that they were raised in communist countries and were told there is no God," Rachel said. "They have such an aversion to anything spiritual or Christian."
"I just want them to know my Savior," said Greg, who remains a favorite among the Jewish students. Adopted from Russia by American parents, Greg studied Russian with a desire to learn about his past—and the little he knows has helped him connect with the elderly.
"They won't start class until Greg comes," said his wife, Abby Ritzema, who graduates from the Human Services program this December.
Building relationships
As a supervisor, Rachel said she is privileged to still have contacts and relationships with Moody students. "I love being able to still be a part of that and see [the elderly] loving Moody students, and Moody students loving them," she said.
Paul, a Biblical Studies junior who was raised by immigrants from Belarus and speaks fluent Russian, teaches the beginners class. On this particular Monday evening, Paul's casual comment about his day leads to an unusual barrage of questions about his Christian beliefs.
"I told them all the things that I believed about repentance," Paul said. "They just started looking at each other and saying, 'That's amazing!'"
"Paul really led the conversation along well," Rachel said. "Most of them are intrigued with why we want to study the Bible, so that's normally the route that we land on spiritual topics."
LIFE staff and Moody students have been fostering relationships with this Jewish community for over 20 years, said LIFE executive director Levi Hazen '11 MA '16. Levi and his wife, Stephanie '11, supervised the PCM for nearly a decade and still have close friends in the community.
'All we can do is deliver the gospel'
"At Life in Messiah, we define fruit or success as obedience to the Lord. Nothing more, nothing less," Levi said. "Nearly all of those residents have heard the gospel message . . . and that's all we can do is deliver the gospel message.
"There has also been a lot of fruit in the lives of Moody students because they have learned about God's heart for the Jewish people and how to sensitively share the gospel with our Jewish friends."
Rachel said the ESL ministry would still be worth it for her even if just one person came. "They are eternal souls that God is pursuing," she said. "And it's just awesome to see Him doing it through us."
About the Author
Miriam Parrish is editorial assistant with Marketing Communications at Moody Bible Institute.