horsepower for the hurting
Moody student training as equine therapist sees God bringing healing for foster kids struggling with trauma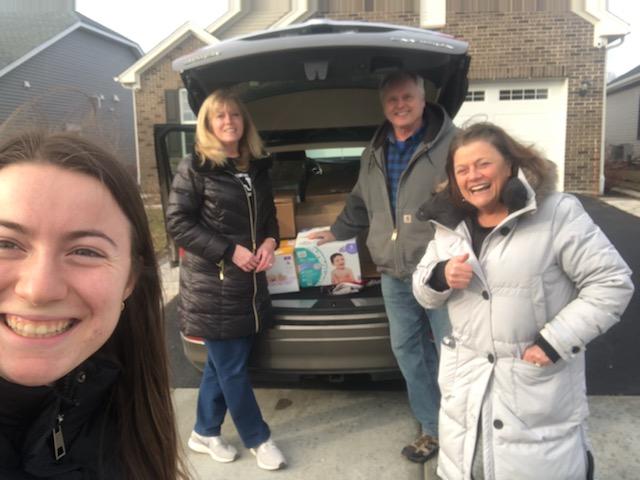 Boriana with her equine therapist mentors Stacy Brass and Tom and Caprice Towne.
By Jeff Smith
When another session of equine therapy had ended and the children had left with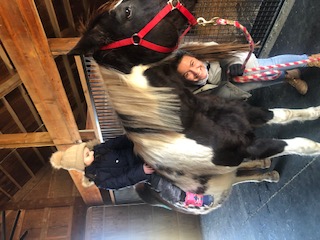 their foster mom, Boriana walked out of the horse stable much like she does after every class: fighting back tears.
Boriana, an Elementary Education major at Moody Bible Institute, has been deeply moved through her participation as an instructor for a faith-based equine therapy program. Her class, which meets Saturdays at a private horse stable in the Chicago suburb of Barrington Hills, features foster kids who have been traumatized by child abuse. Each child carries a heavy mental and emotional burden from the pain they endured before entering foster care.
"In a lot of ways the program gives these children 90 minutes each week when they don't have to think about the trauma of what's been done to them," said Stacy Brass, owner of the horse stable. "The reality is a child is in foster care either because they've been abused or neglected or their parent has died and nobody else wants them."
Profound work
The primary goal of equine therapy is to facilitate long-term emotional healing in the kids through close interaction with a therapy horse and therapist each specially trained in this field. Sometimes this learning process produces tender moments, particularly between the emotionally battered children and the horse they come to adore. It also can uncover mental and emotional scars weighing on the kids' hearts.
"I think Boriana is a bit staggered by how profound the work is that we're doing," Stacy said. "After every session she is or is almost in tears from being so blown away at the work God is using this horse to do."
'Deep sense of solemn responsibility'
When Boriana first accepted the offer to learn equine therapy from Tom and Caprice Towne and Stacy, she'd already amassed extensive experience as a horse trainer and riding instructor while growing up in Sofia, Bulgaria. But equine therapy is a significant step beyond traditional horse training and instruction.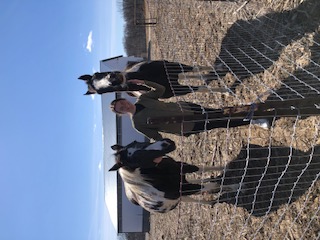 "It's mostly about giving kids positive life skills and a confidence boost," Boriana said. "They know how to care for and ride a horse, and then we relate the lessons they're learning with horses to their own lives."
Stacy and Caprice mentor Boriana each week in the principles of equine therapy. Their main focus has been two-fold: educating her in how the horse acts as an intercessor between each child and the equine therapist and preparing her for situations that might arise as she instructs severely traumatized children.
"Boriana has a real sense of conviction for equine therapy," Stacy said. "She has leaned into the exercise and feels this might be her life's work. She is very burdened by how much a service like this is needed."
Building trust with hurting kids
In Boriana's first equine therapy session in January, the foster kids declined to touch the horse, a 20-year-old Friesian mare named Zoey. They were only comfortable watching Boriana and Zoey from about 100 feet away.
"From the outset we set up the boundary that they're allowed to say no if they don't feel safe with anything," Stacy said. "A lot of foster kids don't have the opportunity to say no whenever they don't feel safe. After we started working with them, we realized they have much more complex cases than we first realized, which is normal."
As the children's comfort level grew with Zoey, Boriana, and Stacy, they started petting and grooming the horse, sitting on its back, and learning to ride. "The rhythm of a horse's walk mimics the way a parent might rock a baby. I think that unlocks something deep in the kids' inner child and they start talking," Stacy said. "Boriana has been amazed at personal things they've shared with her in such a short amount of time."
The horse as communicator
Boriana has also discovered that the most important "therapist" in equine therapy is the therapy horse. "The essence of this program is the therapy horse is the communicator," Stacy said. "The horse speaks through body language. Being able to understand its body language and what it's trying to communicate to you as the handler while you're working with the child is essential to understanding more about the child. A lot of my cues when I work with the children I get off Zoey."
Stacy—founder of The Fidelis Foundation, a faith-based equine therapy program—believes God wired horses for this purpose. "It makes me tear up thinking of the godly traits a therapy horse exhibits," she said. "Their patience, kindness, unconditional love, lack of judgment, compassion, understanding a situation, the way a therapy horse goes to the heart of an issue with a child. Zoey acts differently with each child. She assumes a guardian posture in her temperament with them. She feels there's something she needs to protect there. It's both beautiful and heartbreaking to witness."