Changing Lives a Stride at a Time
Moody student's Practical Christian Ministry helps foster kids deal with trauma, abuse through equine therapy
Boriana teaches equine therapy for foster children and trains horses at two private horse stables in the Chicago suburbs.
By Jeff Smith
As Boriana greeted her equine therapy class for foster kids one chilly March morning, Kelly* slowly raised her hand.
"I think I'd like to try riding Zoey," she whispered to Boriana.
"That's wonderful, Kelly," Boriana replied.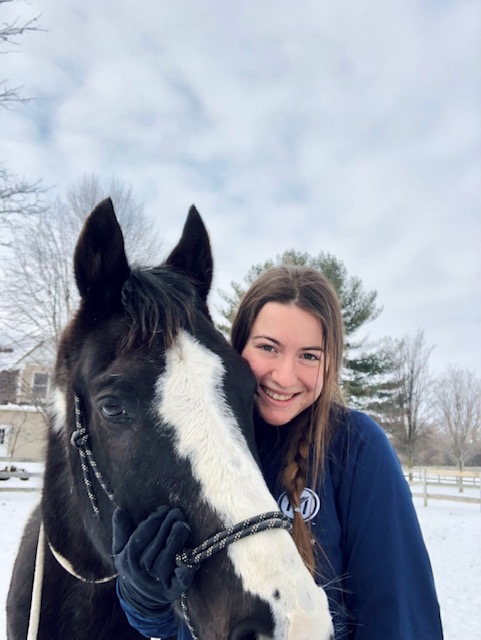 The foster kids hadn't yet sat on Zoey, a black Friesian breed, since the class began six weeks earlier. Like her foster siblings, Kelly, a petite 9-year-old, was taking the class to deal with severe trauma stemming from past child abuse.
After helping Kelly mount Zoey and climbing up to join her, Boriana and Kelly rode the horse in a slow trot around the stable. When they returned, Kelly's face beamed with a smile Boriana hadn't seen from her before.
"It was an amazing moment for her," Boriana recalled. "We were then able to start these conversations about gaining confidence and building trust."
From Bulgaria to Chicago
It's significant steps like this that draw Boriana enthusiastically back to the Chicago suburb of Barrington Hills each week as an equine therapist in training. In fact, after college Boriana hopes to serve as a certified equine therapist while working as a learning behavior specialist in her native Bulgaria. A junior studying Elementary Education at Moody Bible Institute, she is on pace to graduate in May 2023.
Boriana was introduced to horse riding at age 16 when she agreed to volunteer at a horse stable in exchange for free riding lessons. She proved to be a fast study, even learning how to ride bareback, and quickly became a riding instructor.
A year later, at the recommendation of a friend attending Moody, Boriana applied and was accepted to Moody in 2019.
Introduction to equine therapy
As the fall semester of her junior year got underway, Boriana missed being "in the saddle" as an instructor. Dave and Beth Kanelos, the leaders of Boriana's Young Life ministry group in Bulgaria, connected her with two other Young Life leaders, Tom and Caprice Towne, who were launching an equine therapy stable at their home in Barrington Hills. The Townes invited Boriana to join them. She eagerly agreed and embarked on her training as an equine therapist in October 2021.
Using activities with horses, equine therapy provides creative assisted learning for children and adults in crisis who have experienced trauma, neglect, or abuse or who battle mental, emotional, or behavioral health challenges. The goal is to facilitate permanent emotional healing through their equine lessons.
"It's mostly about giving kids positive life skills and a confidence boost," Boriana said, "that they know how to care for and ride a horse and then relating the lessons they're learning with horses to their own lives."
Boriana so thoroughly enjoyed her introduction to equine therapy that she received permission to convert her involvement into her Practical Christian Ministry requirement at Moody.
'An incredible journey for me'
Boriana's training as an equine therapist expanded with Stacy Brass while she continued to train with the Townes. Stacy had established the Fidelis Foundation, a faith-based equine therapy ministry, and served as a foster parent for HIV-positive children. As she helped train Boriana for certification as an equine therapist, Stacy eventually made her the lead instructor of an equine therapy class offered for foster kids who struggle with issues of trauma and abuse.
"I think she is a bit staggered by how profound the work is that we're doing in these foster children's lives," Stacy said. "These are children who have suffered significant trauma or abuse. After every session she is or is almost in tears from being so blown away at the work that God is using this horse to do. I've seen her take a deep sense of solemn responsibility of stepping up to the challenge and saying how can I be a person that can help be a part of this process."
Boriana works each week with Stacy and the Townes at their horse stables. She trains horses for horse therapy, teaches riding to local children, and meets with Caprice and Stacy to prepare for her equine therapy class on Saturdays. Caprice is also leading Boriana through a Bible study titled Holy Ambition about how to turn God-shaped dreams into reality.
"It's been an incredible journey and learning experience for me," Boriana said. "I'm getting more confident as a therapist with each week I teach. I will be doing an internship with the Fidelis Foundation later on this year."
Imparting skills for life
Patience with kids who have undergone serious trauma is the principal lesson Boriana is learning as a young equine therapist.
"It took three weeks to get them to feel comfortable enough to touch the horse," she noted. "When they were able to touch Zoey, we talked about how they gained trust to begin touching the horse and what it means to invite someone into your personal space and how to push them away. And when you're a good leader who can be trustworthy for others to trust, we talked about what that looks like.
"Recently the kids gained the confidence to begin brushing Zoey. They were able to connect with Zoey better by brushing her. Now they ask where she is and want to take care of her. By brushing the horse, they learn about responsibility. Each time you give a kid a responsibility, they learn and grow from it. We talk about what are their responsibilities at their home? We're using the lessons they learn with the horse to teach them how to apply those lessons in their life."
A vision for the future
Equine therapy aligns with Boriana's dream of being a learning behavior specialist in Bulgaria. Both fields reflect her passion for helping children who need extra love and support to overcome weighty academic, mental, or emotional hurdles in their lives.
"She has a great vision for what she wants to do when she goes back to Bulgaria," Caprice said. "She wants to help children with learning labels and children with trauma as well as adoptive kids and kids in foster care. She is using her love for horses and her education at Moody in trying to incorporate therapy with education."
*pseudonym