'God knows what he's doing'
Moody Aviation celebrates 75 years as a missionary pilot school because its founder's first dream was dashed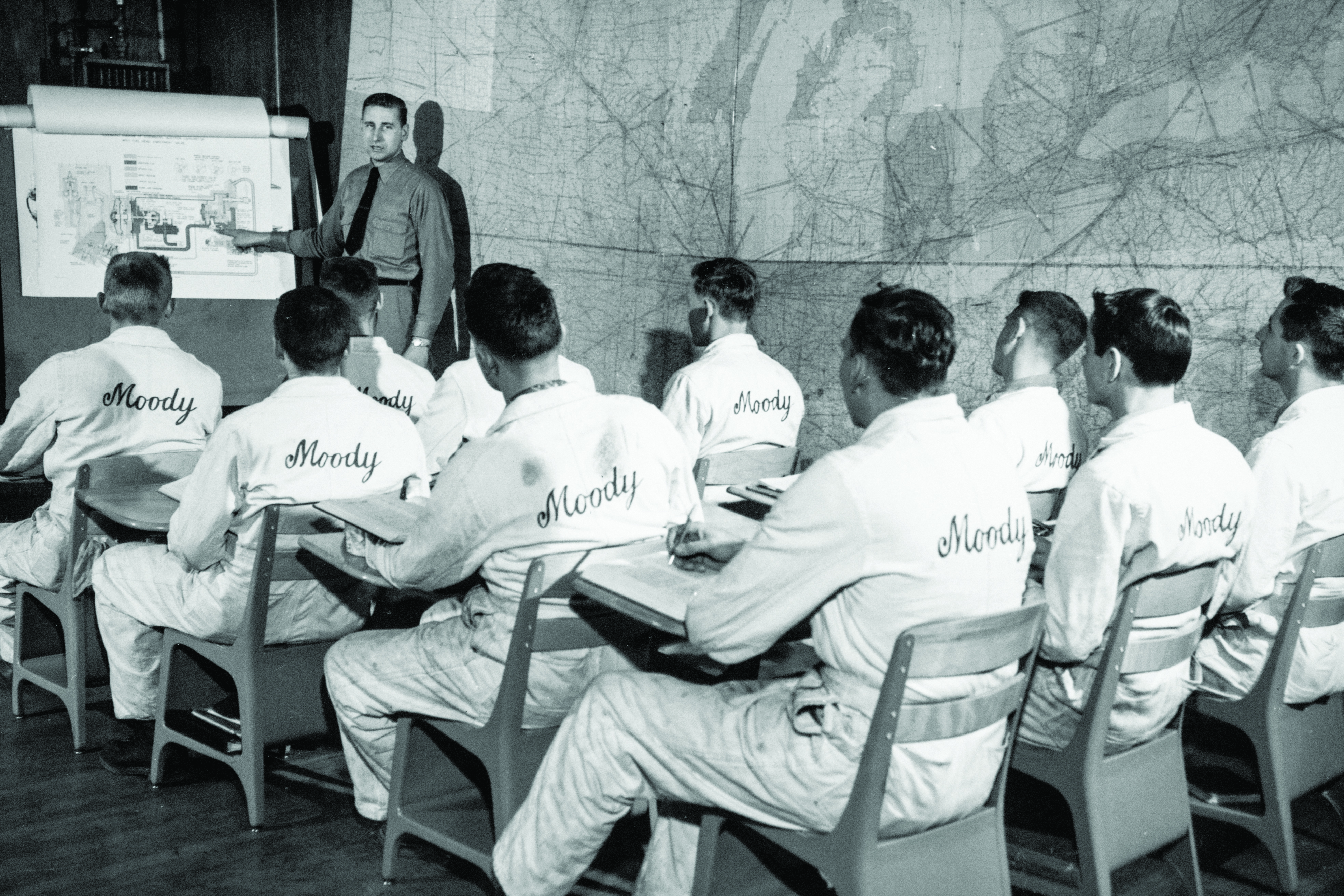 Students take a flight class in the early days of Moody Aviation.
By Jeff Smith
Celebrating its 75th anniversary during the 2021–22 academic year, Moody Aviation has enjoyed a storied history as the world's first and oldest missionary pilot school. Consider these eye-popping numbers:
Since its founding in 1946, nearly 1,000 maintenance specialists and pilots have graduated from the school.
About three-fourths of these graduates have gone on to serve with more than 110 missions organizations in over 60 countries and six continents.
Moody Aviation has produced roughly half of the pilots and mechanics for Mission Aviation Fellowship (MAF) and Jungle Aviation and Radio Services (JAARS), the two largest aviation missions agencies in the world.
Yet ironically the flight school may never have even existed had Moody Aviation Founder Paul Robinson's initial dream come true in 1945.
Moved by tragedy
A graduate of Moody Bible Institute, Paul was pastoring a church in New York when he learned about a tragedy involving a missionary in Bolivia. Violet Herron died during childbirth after being transported for five days by boat and oxcart to a mission hospital. Her husband, Walter, believed Violet may have survived the ordeal if an airplane had been available to fly her from her outpost in the jungle to the hospital.
Violet's heartbreaking death motivated Paul so deeply that he began taking flying lessons to pursue a new dream. He longed to serve as a missionary pilot in Brazil, where he heard the need for mission aviators was especially great.
After months of training, Paul completed his first solo flight on December 3, 1941. Four days later, Japan bombed Pearl Harbor, the US entered World War II, and Paul joined the Civil Air Patrol. After the war ended in 1945, Paul applied to be a missions pilot. But at age 35 the mission boards now considered him too old to serve.
Their decision was a crushing blow to him. "My plans, which I thought were God's plans, were dashed," Paul said.
A new dream arises
But God soon revealed a new dream to Paul that would make his initial plan seem insignificant by comparison.
"I was helping Lillian (Paul's wife) dry dishes one evening," Paul recalled, "when the whole panorama of an aviation training program unfolded in my mind."
Paul left his dish towel in the kitchen, hurried to his desk, and began writing out ideas as they came to him.
"I wrote most of the night and all the next day, until I thought I had it," he said.
The next step was finding a school that would house the program. He submitted a proposal for a flight program to the leadership at Moody, his alma mater, during Founder's Week in 1946. Three months later, the aviation program was born. Paul was the school's only instructor, training 12 students using two Piper airplanes in a rented hangar at Elmhurst Airport in suburban Chicago.
God's grand purposes
Between 1946 and 2003, Moody Aviation moved to four different airports, transitioning from Elmhurst to Wood Dale Airport in 1950, then heading to Elizabethton, Tennessee, in 1967 before taking flight to its present location, Felts Field Airport in Spokane, Washington, in 2003.
Paul Robinson retired in 1975. In his last years before his homegoing, Paul regularly reminded family, friends, and colleagues that his dashed dream of serving as a missionary pilot in Brazil was far too narrow and small for God's grand purposes.
"There are now hundreds of missionary pilots all over the world," Paul was fond of saying. "It's clear God knows what He's doing."
Miriam Parrish contributed to this story.