Earthly Story, Heavenly Meaning
Speaker's stories captivate Founder's Week audience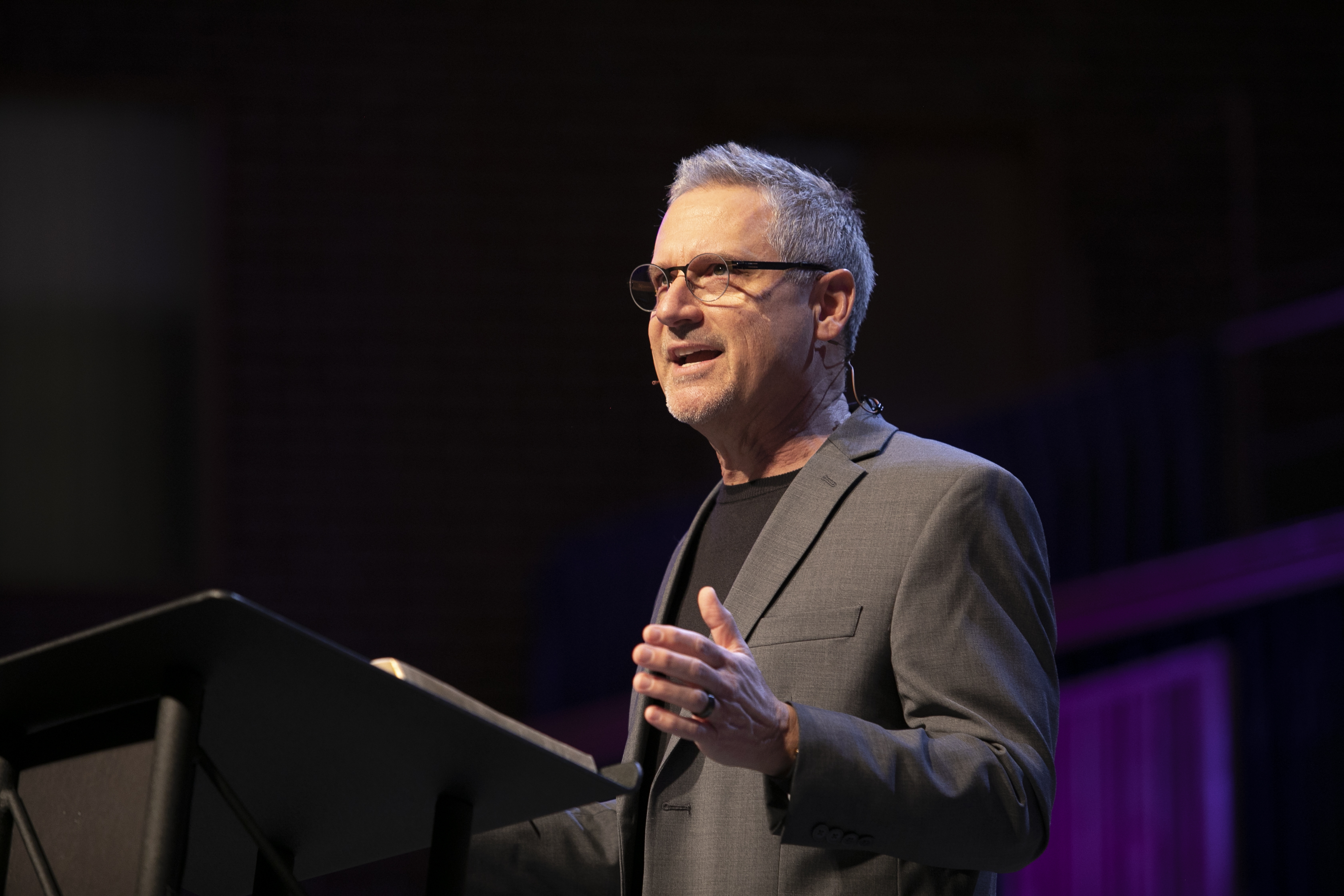 by Jeff Smith
Since I was a child, I have been enthralled with stories. I read all 56 books in the Hardy Boys mystery series the summer before I entered fifth grade, devouring a book a day. I dreamed of being a sportswriter, earning a college degree in journalism to enable me to fulfill that dream.
I was especially captivated by stories in the Bible, particularly Jesus' parables. In my mind I still can hear the voice of Miss Viva, the children's worship director at my childhood church, introducing each parable she read as "an earthly story with a heavenly meaning." Christ used simple stories to illustrate profound spiritual truth. He knew the memorable ways that stories teach and resonate in our hearts and minds.
At Founder's Week Thursday morning, speaker Tim Downey shared two stories I found so riveting that the journalist in me had to jot them down. As a long-time professor at Moody Bible Institute, Tim has clearly mastered the art of storytelling.
The two stories below are spellbinding and rich in spiritual meaning. I trust they'll impact your walk with God as much as they have mine.
Chuck Colson's witness in Indonesia
Speaking about relational obedience and the importance of living life without grumbling or complaining, Tim shared a story about Chuck Colson, the founder of Prison Fellowship, an international ministry to inmates:
"A few years before his passing, Chuck Colson was standing in a long line in the airport in Jakarta, Indonesia. He and some Prison Fellowship colleagues had been traveling all night long. It was now early morning. If you've traveled internationally you know how weary that's like.
"The terminal was hot and steamy. They were tired, and as Chuck relates in his book, Being the Body, he says, 'My passport was in my sticky, wet hand. I was exhausted, I was exasperated at this long, snaking line. I was worried we would miss our flight and inconvenience our ministry partners on the other side of that flight who were waiting on us.'
"Chuck said, 'I was determined not to let frustration get the better of me.' He said, 'So I talked with my friends and we laughed and made the best of the situation.'
"Two years later he received a letter from a businessman who lived in Singapore. This businessman had been a follower of Confucius, but he sent his children to a Sunday School at a Presbyterian church for 'moral training.' One Sunday as he was picking up his kids at church, he overheard the very end of a sermon, and a visiting missionary held up a copy of Chuck Colson's first book, Born Again, and if you've ever seen it you know that the cover features the face of Chuck Colson.
"A few months later, this businessman was stuck in that long line at the Jakarta airport, and he glanced over to the line to the side of him and he spotted the same face he had seen on the cover of that book, Born Again. He was so impressed by Chuck's demeanor and cheerfulness that when he got back to Singapore, he bought the book, read it, and committed his life to Jesus.
"The way out of life's frustrations is not by resenting our limitations. It's not found by being frustrated by the limitations placed upon us. It is instead—now get this—it is instead by accepting the place of frustration as a sphere of God's purpose in our lives."
Mother Teresa and her deformed feet
Speaking of sacrificial obedience—obeying God by sacrificing on behalf of others—Tim shared a story about the late Mother Teresa, a missionary nun who devoted her life to ministering to the poorest of the poor in India in Jesus' name.
Tim shared, "Shane Claiborne once spent a summer in the slums of Calcutta with Mother Teresa, and he wrote about his experience there (helping at the Home for the Destitute and Dying and visiting a leper colony). He said, 'People often ask me what Mother Teresa was like. Sometimes people would wonder if she glowed in the dark or had a halo or something.'
"Shane said, 'She was short, wrinkled, precious, sometimes a little ornery, maybe like a beautiful old granny.' He said, 'There's one thing I will never forget about her. It was her feet. They were deformed.' Shane said, 'Each morning at mass I sat nearby where she would sit and I would look at her feet, and I just wondered if she contracted some type of disability. But I wasn't going to ask.'
"One day a sister said to Shane, 'Have you noticed her feet?' He nodded. She said, 'Her feet are deformed because we get just enough shoes donated yearly for everyone, and Mother doesn't want anyone to get the worst pair, so she digs through the piles and picks out the worst pair for her own.'
"Years of doing that deformed her feet, years of loving her neighbor as herself, years of service and sacrifice. The reason we have a disconnected and unhappy society, and even among some Christians, is because people are trying to find joy in everything but sacrifice, which is where ultimate joy lies."