What Is the Proper View of Christian Leadership?
'Pinch-hitting' Pastor Colin Smith preached at Founder's Week 2022 Wednesday night.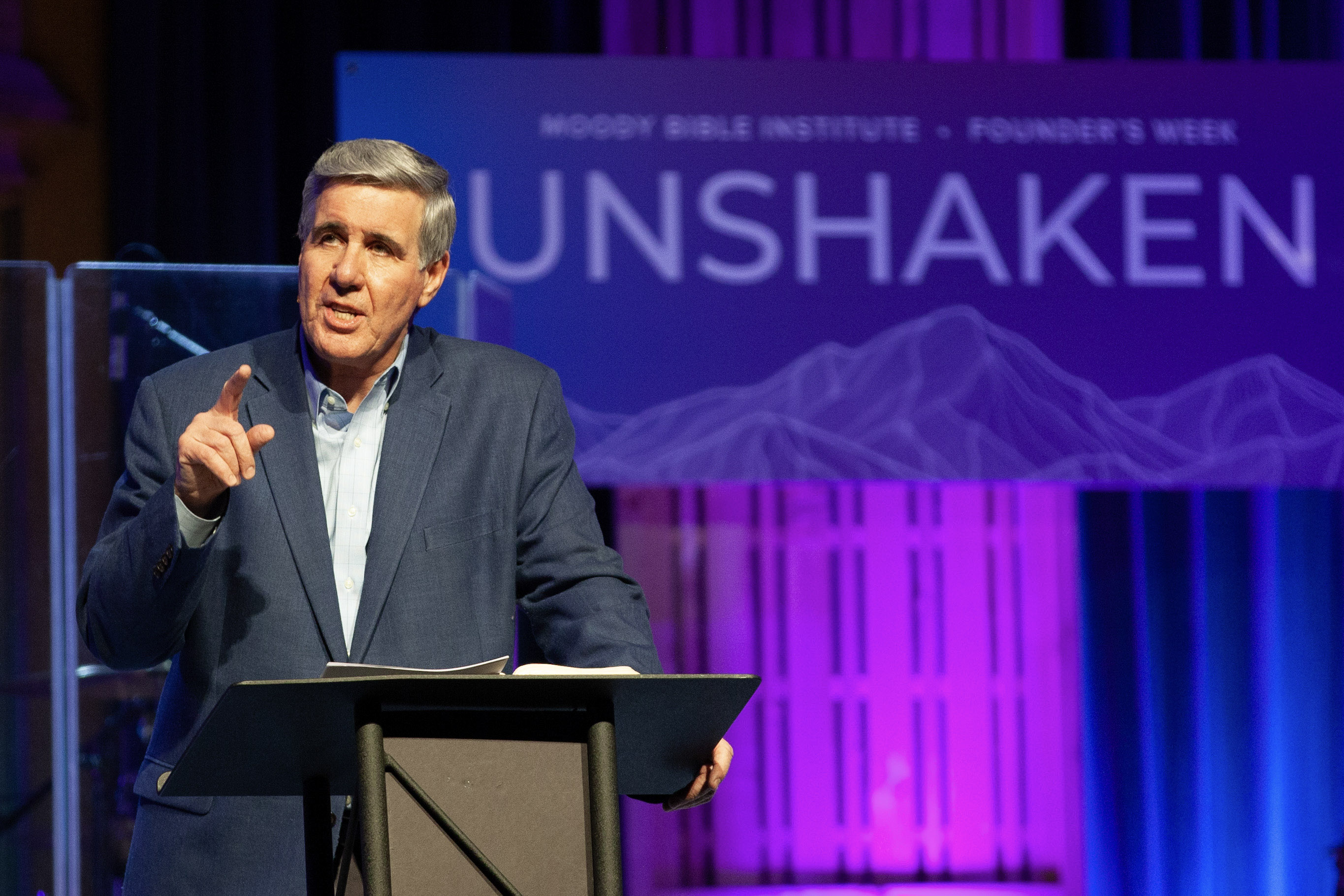 by Linda Piepenbrink
As a snowstorm dumped about 10 inches of snow in Chicago on Wednesday, Founder's Week 2022 had its third speaker cancel—two for COVID-related reasons and one who couldn't get a flight to Chicago.
"But I happen to believe that God is sovereign and knows what He's doing," Moody President Mark Jobe told the crowd of students and guests gathered in Torrey-Gray Auditorium for the evening session.
Earlier that day, Dr. Jobe got word that Bible teacher Wilfredo "Choco" De Jesus would not be able to speak Wednesday night. So he texted Colin Smith, senior pastor of The Orchard, a multi-campus church in the Chicagoland area: "Brother, I would love for you to preach tonight."
Pastor Smith gratefully accepted the offer. Dr. Jobe introduced him as a man of integrity who's pastored his current church for 26 years.
"There's something powerful about people that stay at a ministry, grow in the ministry . . . and see people through the good times and bad times," Dr. Jobe said. "I think that makes for a compelling ministry."
'A message for each and every one of us'
With just a few hours' notice, Pastor Smith chose a message he'd prepared the day before and delivered to his own staff Wednesday morning: "A Proper View of Christian Leaders."
"There will be some aspect of your life in which you are called by God to lead, so this is a message for each and every one of us," Pastor Smith said. "This is a message about how we should view ourselves. It's a message about how other people should regard us as Christian leaders and how therefore we should think of each other."
Colin Smith started with how people should view Christian leaders based on 1 Corinthians 4:1: "This is how one should regard us, as servants of Christ and stewards of the mysteries of God."
This proper view of Christian leaders as servants and stewards is the opposite of our tendency to elevate favorite Christian leaders into celebrities while despising ministers whose personalities don't measure up.
"It's human nature," Pastor Smith said. "The world is always putting up substitutes in the place of God."
Christian leaders should not be overvalued but also not undervalued. Pastor Smith's advice: "Brothers and sisters, if you ever feel looked down on in the service that you are offering for the Lord Jesus Christ, remember this: You are not a steward of common things. We are stewards of the greatest good news this world has ever heard or ever will hear."
Servants of Christ
As servants of Christ, we are "attendants," waiting on Christ, entirely at His disposal. What does that mean? When Jesus called His 12 disciples, their first job was to be with Him. Our calling is to be with Him too.
"The first danger for all Christian leaders is that our lives become so full of serving Jesus that we begin to lose touch with the Jesus we are serving," Pastor Smith said. "Intimacy with Jesus comes before activity for Jesus. And activity for Jesus can never be a substitute for intimacy with Jesus."
Pastor Smith says the next step is to then be ready to obey Jesus. When the wine ran out in the wedding in Cana, Mary instructed the servants, "Whatever he says to you, do it."
"That's the heart of the servant," Pastor Smith explained. "Lord, I'm available and ready to be responsive to your Word and to your call."
Pastor Smith added that as we serve Christ, we'll begin to discover more of His ways, have a sense of how He's at work, and take initiative, working in collaboration with the Holy Spirit.
Stewards of the mysteries of God
A steward is a household manager, someone who is put in charge of something of great value. The master expects you to guard it, manage it economically, and put it to work.
What is the first thing to look for in a household manager? Paul explains in 1 Corinthians 4:2: "It is required of stewards that they be found faithful."
Faithfulness includes making decisions and handling what has been entrusted to us in the best interests of the one we serve—in this case, Jesus.
But what are the mysteries of God that we are to steward? Pastor Smith told the Founder's Week audience, "We are trusted with the riches of the assurance of all that is in Christ—and to take that to the world. It's an amazing stewardship!"
The apostle Paul also speaks of the mystery of union with Christ. Because Jesus died for us, the mystery hidden for ages and generations is now revealed to the saints. Although its full wonder is still to be made known, "the glorious hope is that you can become the person that God has called you to be because of Jesus Christ being present in you by the power of His Holy Spirit," Pastor Smith said.
Motivations of a servant and steward
Knowing you are a servant and a steward will help motivate you to grow in humility, confidence, godly fear, and joy. For humility, Smith referred to Robert Murray M'Cheyne, a 19th-century minister in Scotland, who said, "My people's greatest need is my personal holiness."
Pastor Smith said, "That is axiomatic for anyone who wants to be a servant or a steward . . . the more you pursue holiness, the more you will realize how far you are from it."
'You are serving the Lord Christ'
A sign hangs above Pastor Smith's study door with Colossians 3:23 as a reminder: "Whatever you do, work heartily, as for the Lord and not for men, knowing that from the Lord you will receive the inheritance as your reward. You are serving the Lord Christ."
That's the call of a Christian leader. John 12:26 says, "If anyone serves me, he must follow me; and where I am, there will my servant be also. If anyone serves me, the Father will honor him."
"There's more in these wonderful words of Jesus than a call to discipleship," Pastor Smith says. "Jesus is promising right there a future destiny. . . . Life affords no greater privilege, no greater joy than to be a servant of Jesus Christ and a steward of the mysteries of God."