being a light in a new world
My Practical Christian Ministry experience in Little India taught me empathy for first-generation immigrants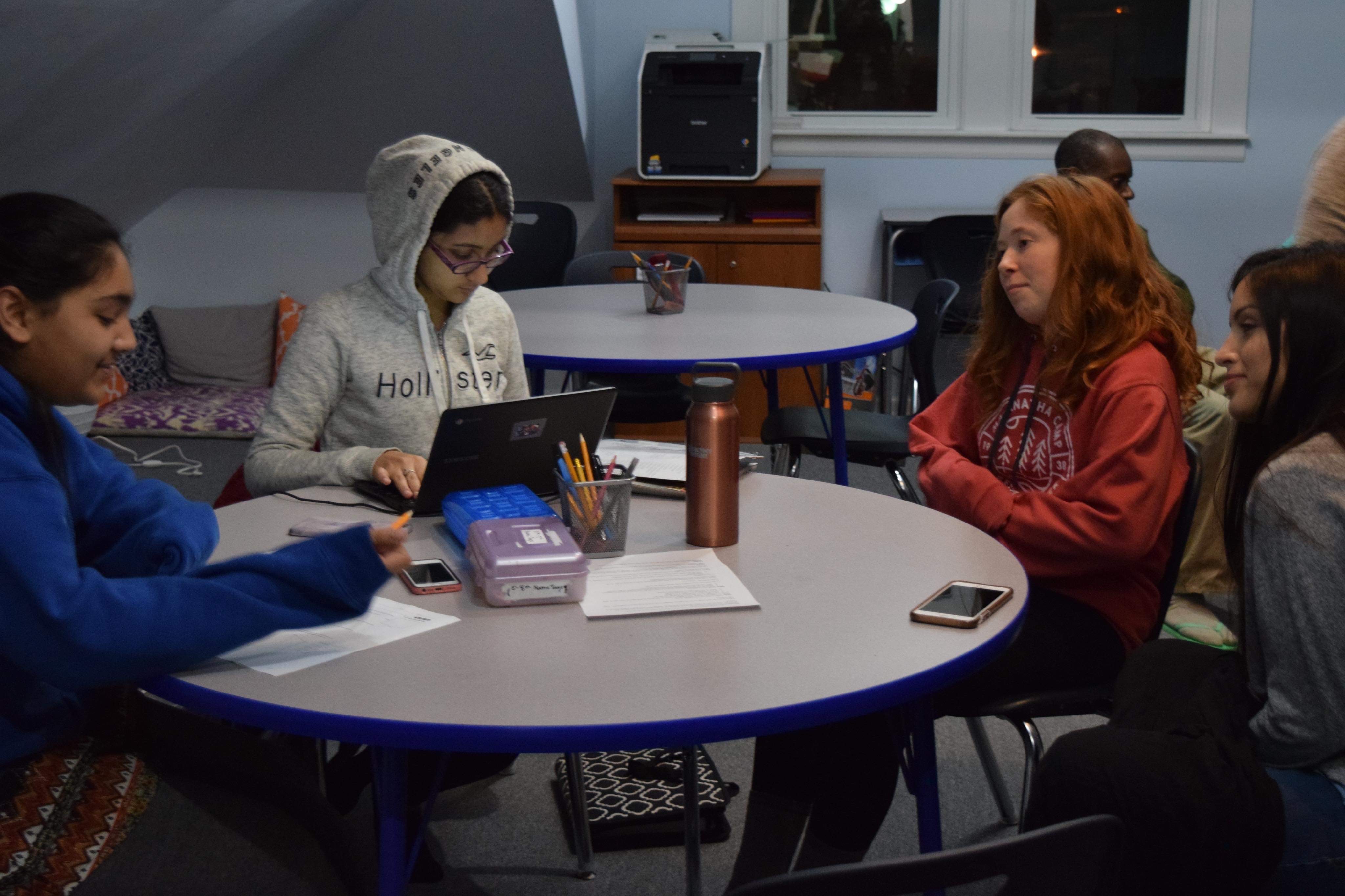 Miriam and another Moody student tutor kids at the South Asian Friendship Center in the Little India section of Chicago.
By Miriam Parrish
There's a uniquely penetrating chill that comes with a January journey on Chicago public transit. A rich cup of chai is arguably the best remedy for this condition.
This is the first important lesson I learned during my Practical Christian Ministry (PCM) as an after-school tutor at the South Asian Friendship Center (SAFC) in Little India. (Moody students serve once a week with a PCM at a ministry in Chicago, applying what they're learning from their classes while gaining skills in how to influence people for Christ in an urban context.)
As a freshman at Moody who hailed from Virginia, I was apprehensive about entering Chicago's slice of South Asia. As soon as I stepped off the 49B bus onto Devon Avenue, I was surrounded by stores selling formal saris, restaurants fragrant with samosas, and passersby speaking Urdu and Bengali.
It truly felt like another country.
In this community of immigrants from India, Bangladesh, Pakistan, and 130 other countries, there were new rules to follow. SAFC staff instructed me and the other tutors to dress conservatively and avoid eye contact with adults of the opposite gender. Worrying that I would commit some disastrous cultural blunder, I took pains to remember these guidelines.
I quickly relaxed. The kids at SAFC were quite similar to other children I knew—they had trouble sitting still, liked talking about their friends, and would rather play than do their homework. As I got to know them and grew more comfortable in my role as tutor, I came to love my PCM.
From the first 40 minutes before the kids arrived—when tutors and staff enjoyed chai, discussed our weeks, and prayed for the students—to the last half-hour when we played games with the kids and waited for their parents, it was a pleasant routine. The hours in between were devoted to homework and a Bible lesson, which we tutors took turns leading.
Serving at SAFC was my first opportunity to see contextualization in action. During Diwali, the Hindu festival of lights, Youth Director Beth Mason explained that Jesus is the light of the world. For Halloween, she taught the kids that we need not fear the darkness of the world if we put our faith in Christ.
Diwali of the East and Halloween of the West. The SAFC kids celebrated both with enthusiasm.
As I learned more about my students and their backgrounds, I gained small insights into some challenges of being first-generation immigrants. It couldn't be easy for the parents to instill their children with traditional Eastern values when peers, schools, and media immersed their children in Western thought.
Nor could it be simple for the kids to live in devout Muslim, Sikh, and Hindu homes while Western culture, with its oft-opposing values, waited just outside the door. How would these young Americans resolve the pulls of East and West as their identities crystalized in adulthood?
What I learned from my PCM in Little India was that I didn't need to have the answers. SAFC was perhaps the only place where no one questioned the jumble of languages, values, and cultures that each child uniquely expressed. My task as a tutor was to make the kids feel welcome, help them with their homework, and be the light of Jesus. I had to trust that, with our brief Bible lessons, God would take care of the gospel seeds we planted.
Miriam Parrish is a 2021 graduate of Moody Bible Institute in Chicago and a student editorial copywriter and editor with Moody's Marketing Communications department.