Back to School
Dawn Pulgine blossomed as ministry leader and teacher after earning her BA at Moody as a 40-something wife and mom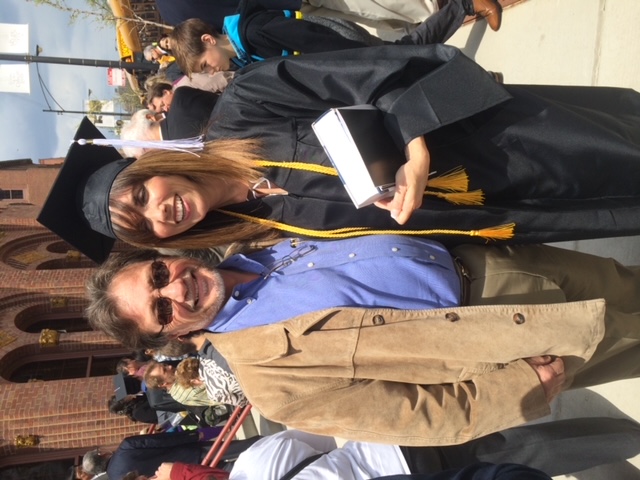 Dawn Pulgine with her husband, Tony, after graduating from Moody with a BA in Biblical Studies and Communications.
By Jeff Smith
As Dawn Pulgine followed the tour guide around Moody Bible Institute's Chicago undergraduate campus, a frightening thought flooded her mind.
"I was a 40-something wife and mom with three kids—how was I going to juggle school with my family and work responsibilities?" Dawn said. "I was thinking my daughter is going to college and my son will be in college four years later. What was I doing?"
Difficult choice
Dawn faced a gut-wrenching decision. Getting Real Ministries (GRM), the women's Bible study ministry she had recently founded in Aurora, Illinois, was flourishing to the point that new participants were joining small groups nearly every week. But Dawn felt inadequate to lead the ministry to its full potential. She believed she needed formal Bible and ministry training to take GRM forward. After researching Chicago-area Christian colleges, Dawn concluded that Moody was the best option for a Biblical Studies degree. After heavy doses of prayers and soul searching, she enrolled at Moody in 2008.
"Biblically I agreed with everything Moody believed in, and it's such a blessing that Moody offered donor-paid tuition—that was a huge help," she said.
Treating college like a job
Dawn created a regimented daily schedule to earn her degree in Biblical Studies and Communications. She took 12 credit hours of classes each semester, traveling on the train about 30 miles from suburban Aurora to downtown Chicago and then walking to campus from the train station. After classes she left Moody by 1:00 p.m. to arrive home at 2:30 p.m. to greet her kids after school. In the summer she enrolled in online courses while her children were out of school.
"I treated school like a job," Dawn said. "That's one of the advantages of being an older student. I needed to. I was sitting at our kitchen table one night and was SO tired. Life was hectic. Sometimes I'd be at one of my kids' activities doing schoolwork while the other parents chatted. I told myself I just have to get through this stage of my life."
'Campus mom'
Dawn expected her biggest challenge might be fitting in with 18- to 21-year-old students who were the same age as her older daughter. But as a gregarious extrovert, Dawn quickly connected with classmates.
"I'd talk to people, ask them questions, and they'd get to know me," she said. "You're in the same classes as a lot of the same people. A lot of the girls I began mentoring outside of class. They called me their campus mom. I brought them cookies, welcomed them to my family's home for dinner and social time, and then I'd drive them back to campus so they wouldn't have to ride the train at night, just like a mom."
Dawn's maturity and GRM leadership experience also added a dynamic layer to the classroom.
"Dawn was enthusiastic and such an encourager to the other students," said Jamie Janosz '86, who taught some of Dawn's courses. "She related so well to them maybe because she had children approaching that age. I loved the energy and real-world ideas she would bring to classroom projects and discussions. Older students had life experience that showed them a real need for Bible and ministry skills. They had a clear vision for how they were going to use what they were learning."
'A great experience'
Dawn graduated from Moody in 2013. She said it was no coincidence that Getting Real Ministries enjoyed its most fruitful years following graduation, reaching hundreds of women through the truth of God's Word.
"My professors taught me how to dig in and pick apart the text. It was wonderful to learn," Dawn said. "You thought you knew something and then you'd take a class and realize you didn't know it at all. Moody gives you the solid biblical and theological foundation and perspective you need. Plus you feel so supported and welcomed. I could ask my professors questions outside of class or talk over lunch and get the support I needed. Moody was a tremendous experience."
About the Author
Jeff Smith is editorial manager of Marketing Communications at Moody Bible Institute.