anchors aweigh
Moody alum Wayne MacRae '80 reaching sailors with the gospel for three decades as a US Navy chaplain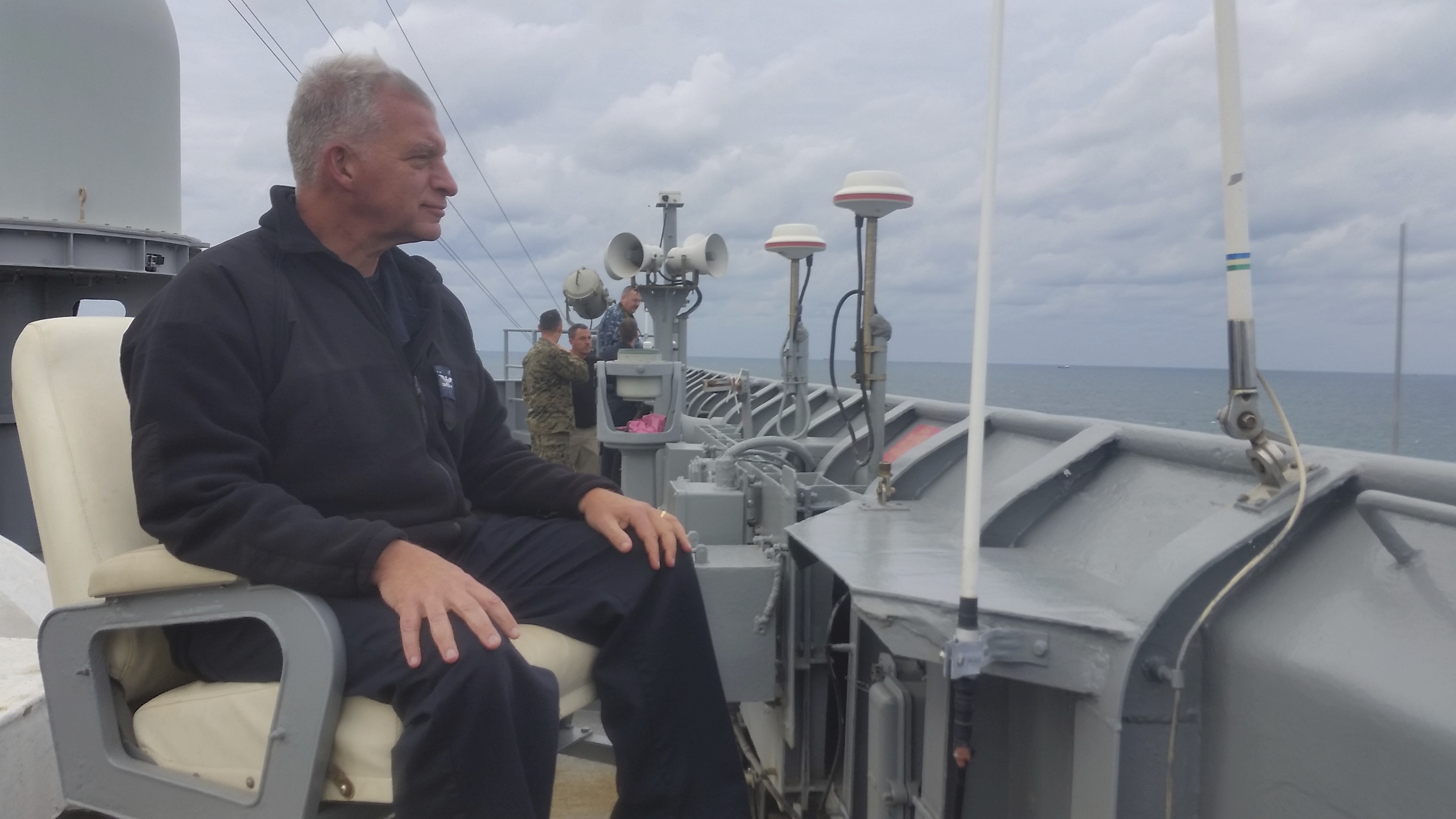 Wayne MacRae sails through the Bosphorus Strait on USS Mount Whitney.
by Jeff Smith
Whenever sailors are deployed to a US Navy ship for the first time, Navy Chaplain Wayne MacRae sees opportunity knocking. Whether on the sea or ocean, the immensity of the body of water their unit patrols combined with the confined close living quarters prompts many new recruits to dwell on matters greater than themselves.
"People really do some soul searching. And God can open some incredible doors of ministry," said Wayne, who recently marked the 30th year of his chaplaincy. "On a small ship, when you're the only chaplain, you work with people who represent different faith groups and you're the spiritual pastor for the unit."
Wayne's primary mission
As they ponder issues of eternity, these sailors attend worship services on the ship that generate deep spiritual questions from a group of men and women coming from a variety of different faith groups and experiences, from Muslims and Catholics to agnostics and atheists. This is when Wayne, a 1980 graduate of Moody Bible Institute, points them to the One who has answers to every question and who desires a personal relationship with each of them. He frequently leans on the insights he learned as a Moody student majoring in Bible and Theology to guide his teaching and discussions.
"My primary mission is to be a representative of God and Jesus Christ in the work environment, to live out what it means to be a person of faith, and to try to reflect the love and the compassion of God," Wayne said. "For me, being out at sea is very much a spiritual experience. You get that sense of being insignificant and yet recognize that there's a God who loves you."
Living the gospel for his coworkers
Wayne's gospel focus extends to his fellow chaplains. Whether on a ship, on a base, or through international travel, Wayne rubs elbows with chaplains from a range of religions and faith perspectives, including numerous chaplains who don't share his evangelical beliefs. Wayne strives to influence his unsaved colleagues by being salt and light through his conduct, conversations, and character.
"It's always, I think, more a matter of witness through the way that we live our lives, rather than trying to challenge each other on what it is we believe," Wayne said.
For complete details on Wayne's journey as a chaplain, click here to read Rachael Varnum's full story from Moody Alumni & Friends magazine.
About the Author
Jeff Smith is editorial manager for Marketing Communications with Moody Bible Institute.