cutting-edge partnership
Moody's MA in Ministry Studies has a degree–residency program training people for church ministry leadership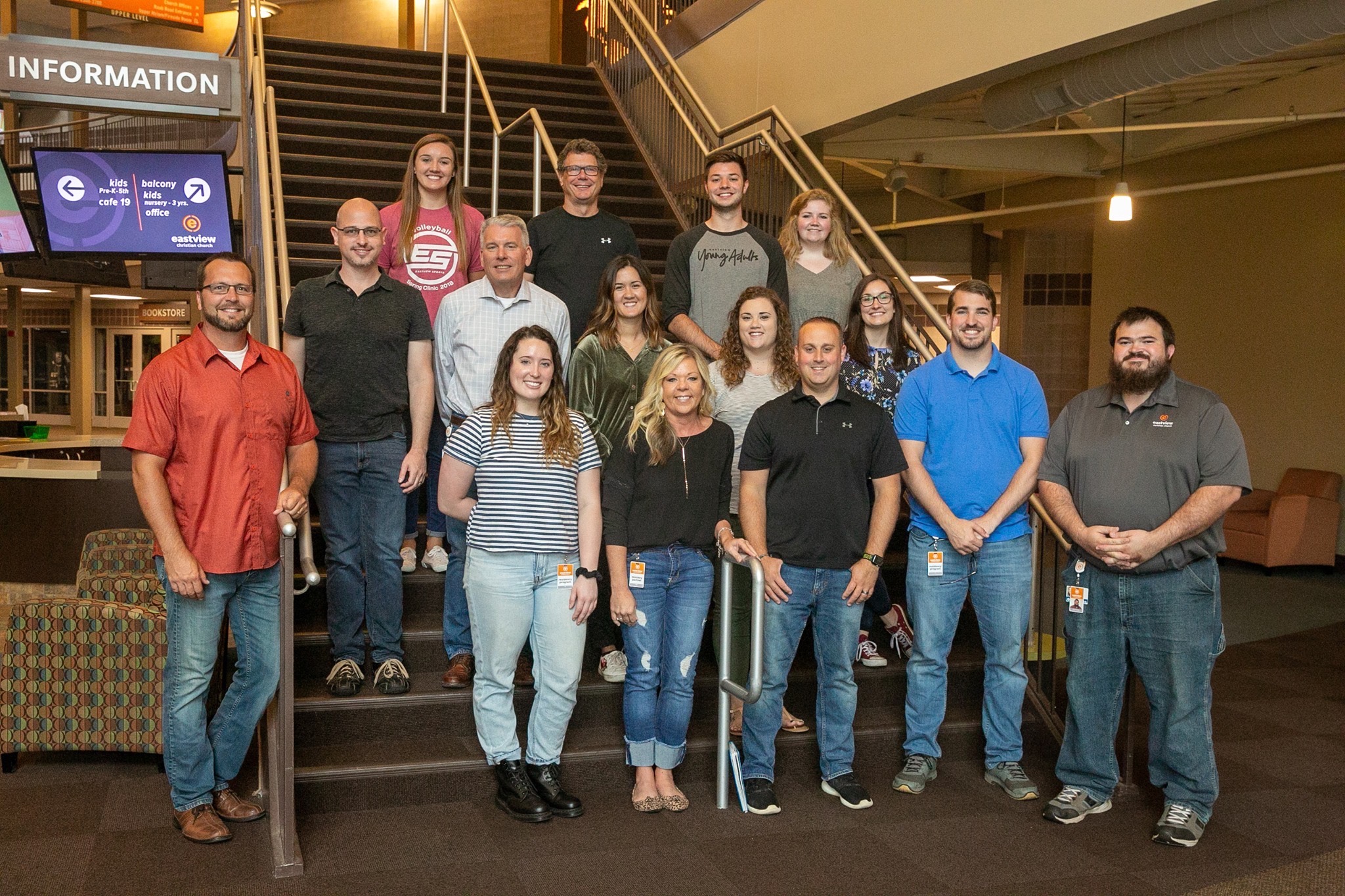 Members of the Eastview residency cohort group pose with one of the program's leaders, Darrell Stribling.
By Linda Piepenbrink
Warren Smith works full time for the Federal Aviation Administration but also serves as a pastor at his church in Atlanta, Illinois, thanks to Moody Theological Seminary's hybrid MA in Ministry Studies degree.
"I wanted to pursue a seminary degree for some time," he says. "However, with both of my kids in college themselves, I just didn't think it would ever be financially possible or even practical."
That all changed a few years ago on Easter morning. Warren received an email about an opportunity to apply for a residential graduate program that was being offered through a partnership between nearby Eastview Christian Church in Normal, Illinois, and Moody Bible Institute.
Warren applied and was selected to participate on an executive pastor track in the first resident cohort at Eastview. "The experience was life-changing," he says. "I loved the mix of online learning, real-life ministry exposure as well as the opportunity to build lasting ministry relationships."
The 36-hour program offered at Eastview integrates Moody's Master of Arts in Ministry Studies degree with the church's practical hands-on training in ministry leadership.
"We think theological understanding and pastoral skills need to work hand in hand, and this program is hard to beat," says Darrell Stribling, pastor/director of the church residency program and an adjunct professor for Moody's online programs.
Andrew Beaty '88, associate dean of Online Programs and Faculty Support, came up with the idea of combining the online MA-MS degree with a church residency program and collaborated with Darrell to develop it. "We worked for a number of years to design this program so that it will work well for people," he says.
Cohorts of five to 20 students take online courses such as Old and New Testament History, Literature, and Theology; and Systematic Christian Theology I & II; do an intensive internship; and study core elements of ministry preparation. The residency program takes 11 months, but most people take 24 months to complete the MA degree. Those with advanced standing from Bible college or graduate transfer credit can complete it within a year.
"This program is outside the box, and I applaud Moody's willingness to adapt to this type of hybrid learning environment," Warren says. "Not only did I get to be involved in day-to-day ministry activities along with the online learning, but the program included a weekly classroom experience in which we got to hear from experts in their field."
Since graduating from Moody, Warren joined the staff of Atlanta Christian Church as the pastor of Outreach and Involvement. "I lead a Sunday evening youth outreach program, a men's discipleship group, and do occasional preaching," says Warren, who plans to continue in vocational ministry after he retires.
"The MA program at Moody has given me a deep appreciation and a passion for congregational and elder health as well as a solid foundation on which to pursue these paths," he says, adding, "I would like to especially encourage those who thought a seminary degree was outside their reach to take a close look at the unique opportunities available through Moody."
To find out how you or your church can participate in the MA in Ministry Studies (or the longer BS in Ministry Leadership), contact Hannah Tung at hannah.tung@moody.edu. For information about the Eastview Residency, contact Dr. Andrew Beaty at andrew.beaty@moody.edu.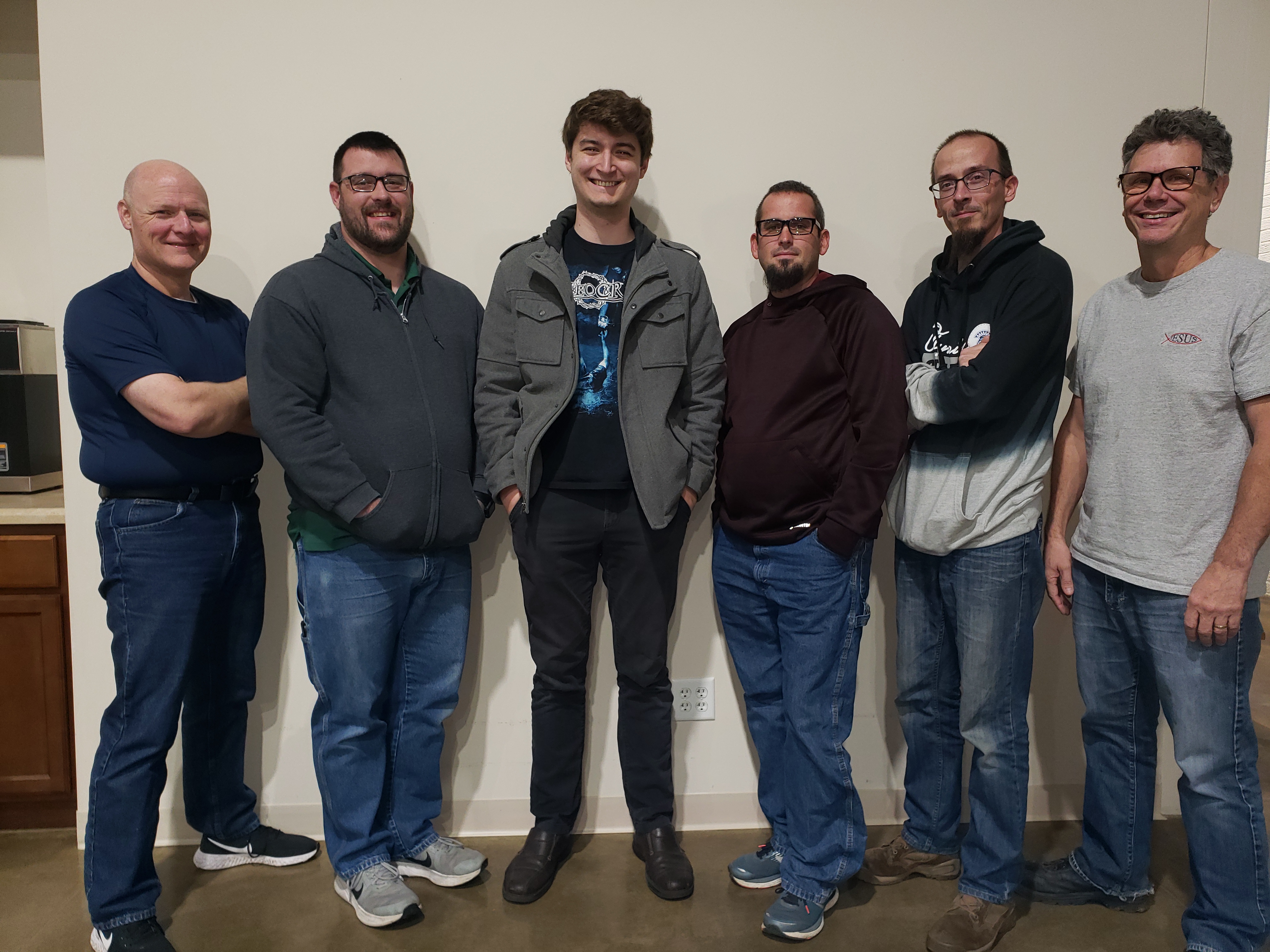 Warren Smith (far right) with the men's discipleship group he leads. "These men are the future leaders of Atlanta Christian Church," he says.